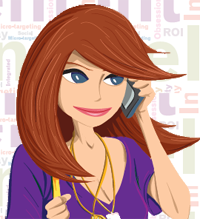 Hi Marketing Forward blog readers. I'm Dana. I'm excited to share my experiences with my favorite – and not so favorite – brands. I don't ask much, I just want brands to treat me right. Like Caribbean Cruises: I was hesitant to go on a cruise, but I did my homework – checked their site, Facebook, read reviews and talked to friends – and it was clear they were top notch. The whole booking process was easy and they made me feel like a rock star on my private yacht. I just got back and they emailed asking if I'd give them feedback. Of course I gave them a glowing review – I'm still glowing myself.
It's hard to be back in reality, but it's nice to come home to fall. I love fall: pumpkin lattes, football, boots – mostly the boots. I got some great ones from ShoeSparkle. I'd never bought from them before, but I did a quick search and saw they had free shipping and returns – obsessed! I signed up for their email loyalty program and snagged some great riding boots.
I also got a new dress from Evolution. I saw it while searching for cruise-wear. It is perfect for transitioning to fall, just not quite right for a cruise. I put it in my cart, but got a text from my boss about my presentation and had to jump on a call. Anyway, I'm so glad I saw Evolution's ad for it later because I've gotten so many compliments and it looks great with my boots!
I don't know how they do it, but these brands are ah-mazing!
XOXO,
Dana
Editor's note: We know how they do it! Get a glimpse of Dana's workspace. Click image for a better view.