We recently released our 2014 Digital Marketer: Benchmark and Trend Report, Experian Marketing Services' annual resource for marketers looking to create intelligent interactions with their customers at every point of interaction. While the report itself is extensive, here is a brief introduction to the key concepts explored in the report.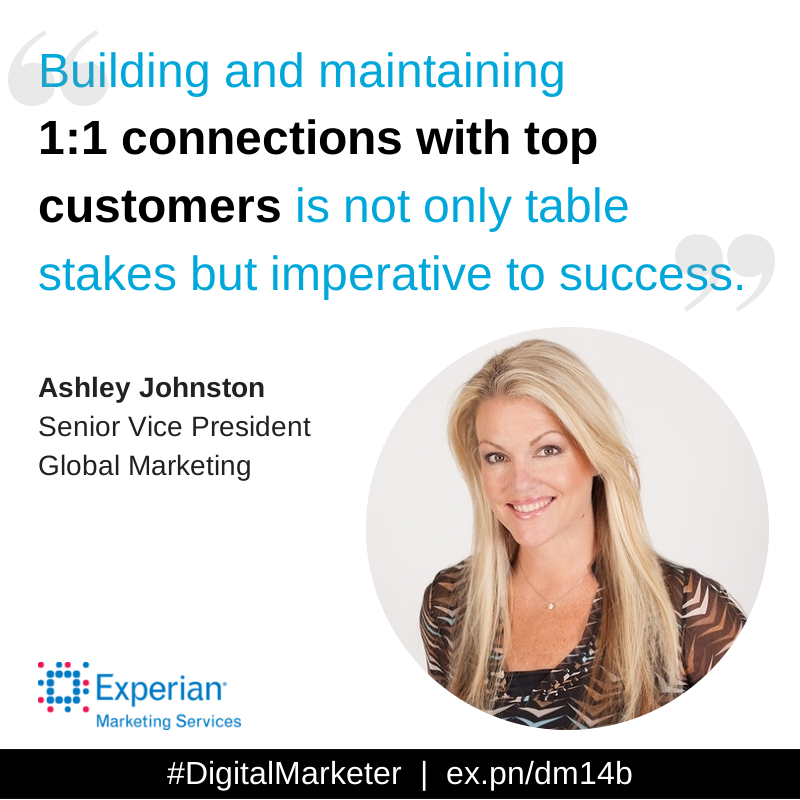 For starters, 2014 is the year that marketers will lead massive change within their organizations. They'll convince leadership that building and maintaining 1:1 connections with top customers is not only table stakes but imperative to success. And they'll help define the strategies, processes and technologies that will shake up the status quo and make such connections happen.
It's a tall order for marketers but absolutely necessary if their companies hope to capture the attention and affection of today's hyperconnected and wholly empowered consumers to ultimately build a brand story that resonates and matters well into the future.
In the last five years we've experienced unprecedented change. Take Facebook, even though Facebook celebrated its 10th birthday this year, it was really within the last five that it moved off campus and into homes around the world. The advent of the tablet and the advancements in smartphone technology, usability and functionality has led the majority of the world's population to be connected in some way. As a result, today the possible paths to purchase have multiplied exponentially and will continue to do so. Advancements in mobile technology and the proliferation of social channels have given consumers the ability to connect and access information at any time, and their attention is more fragmented than ever. And as they move from device to device, or seamlessly in and out of channels, they leave behind an ever-increasing amount of data and information that can help marketers better understand their needs, desires and preferences. It's our ability to not only organize and synthesize "big data" but to make better use of first party data to ensure better customer engagement and messaging strategies that lead to loyalty, advocacy and maximized profits. This year it will be more important than ever to link data assets together in one centralized location to better understand the behaviors and attitudes of those coveted customers, and then action that data to create meaningful engagement that drives sales.
This year's Digital Marketer Report is our sixth annual take on the ever-changing consumer, technology and marketing landscape. As always, we offer practical advice on how to find, understand and engage your very best customers, while exploring benchmarks and trends across channels like email, mobile, social and display advertising. We also provide our own research findings that highlight the challenges today's CMOs face, including the top barriers to cross-channel marketing success (technology limitations and organizational structure to name a few). I hope the trends and insights contained within are helpful as you work to create intelligent interactions with your best customers. Every time.
Download The 2014 Digital Marketer: Benchmark and Trend Report and register for our Digital Marketer Webinar today. Happy reading.