It's almost that time of the year again, the time to put away fourth of July merchandise and replace it with this year's favorite superhero backpacks. It's almost back-to-school season, and parents and kids from kindergarten to college are preparing for school's "new normal."
To navigate the challenge of 2021, Experian's Marketing Analytics team is sharing Back-to-School shopping season insights with you. Download the eBook to learn more. Our outlook about this year's Back-to-School shopping season can help you better plan and improve your marketing effectiveness.
The report covers who's actively shopping for school supplies, whether they're shopping in-person or online, and what they're buying this year. Here's a summary of what you'll learn in the report:
Who (specifically) is shopping for back-to-school supplies this year?
More than half of online searches related to Back-to-School were made by a small set of consumer segments. We've identified 4 Mosaic® groups as being in-market for back-to-school merchandise. To find these types of consumers, we used online behavioral data and filtered for households with school-age children between 5 and 15 years old.
Each group, such as Flourishing Families, share similar shopping behaviors and needs. While each group of consumers has a need for Back-to-School merchandise, they have different circumstances that require more personalized marketing.
Let's break down each Mosaic® group to better understand their size and key features so that you can build more personalized messaging. Contact us for segments and insights specific to your brand.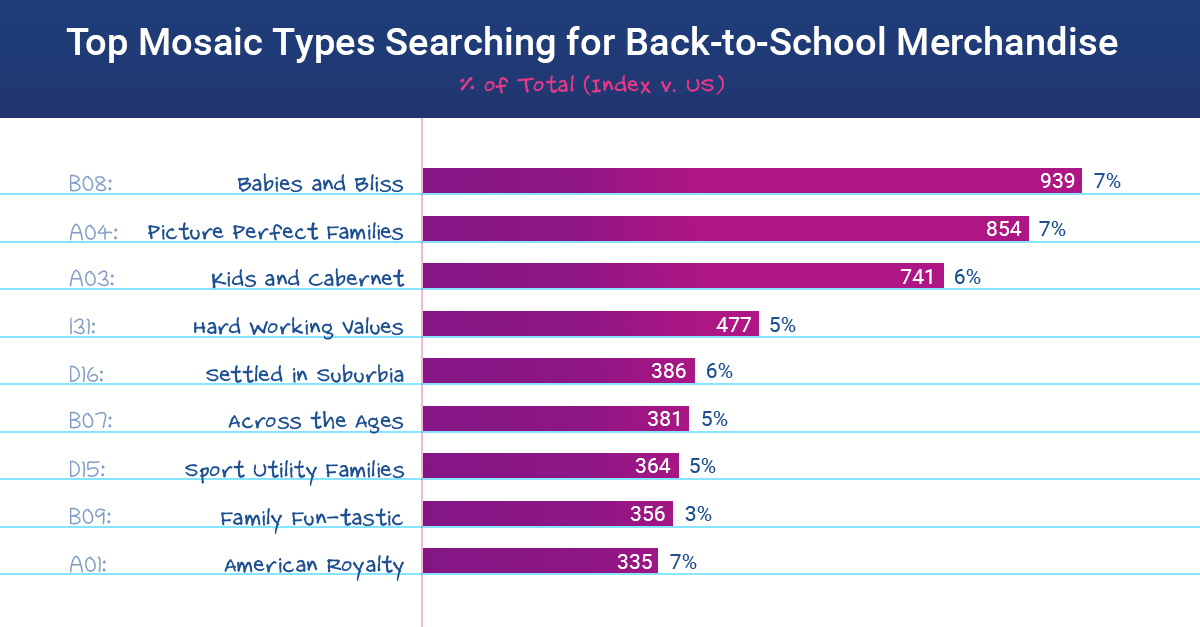 Power Elite
As you can see in our Mosaic® product brochure, Power Elite is categorized as Group A. This is the largest group analyzed in the report, accounting for 4.5 million U.S. households.
Here are the Power Elite consumer types actively shopping for back-to-school merchandise this year:
A01: American Royalty
A03: Kids and Cabernet
A04: Picture Perfect Families
Key Features:
Wealthy
Highly Educated
Politically conservative
Purchase housewares and electronics in store
Vacation and fitness retail influencers
Luxury lease cars
Flourishing Families
Also called Group B in this report, Flourishing Families is comprised of 3.7 million U.S. households.
Active consumer types:
B07: Across the Ages
B08: Babies and Bliss
B09: Family Fun-tastic
Key Features:
Affluent
Charitable contributors
Athletic activities
High-priced children's clothing
Home products & furnishings
Sporting good
Suburban Style
Suburban Style, also Group D, is made up of 2.9 million U.S. households.
Active consumer types:
D15: Sport Utility Families
D16: Settled in Suburbia
Key Features:
Comfortable lifestyle
Ethnically diverse
Politically diverse
Instagrammers
Children's games
Wholesale members
Family Union
The Family Union group, Group I, is the smallest of those analyzed in this report, but still a respectable size: 1.2 million U.S. households.
Active consumer types:
Key Features:
Bilingual
Married with kids
Large households
Hunting clothing
Automotive tools
Will they shop online or in stores?
Prepare for a return to in-store shopping as the US moves post-pandemic. These consumers have shopped in-store for Back-to-School and have trended toward in-store shopping as the vaccine was distributed. Mobile location data shows these consumers actively shopped in-person during the 2019 Back-to-School season, and are shopping in-person again post-pandemic.
Experian analyzed consumer mobile location data for big box retailers, department stores, malls and apparel-accessory stores since June 2019. The aggregated number of visits was indexed each month against 12-month average of that respective year.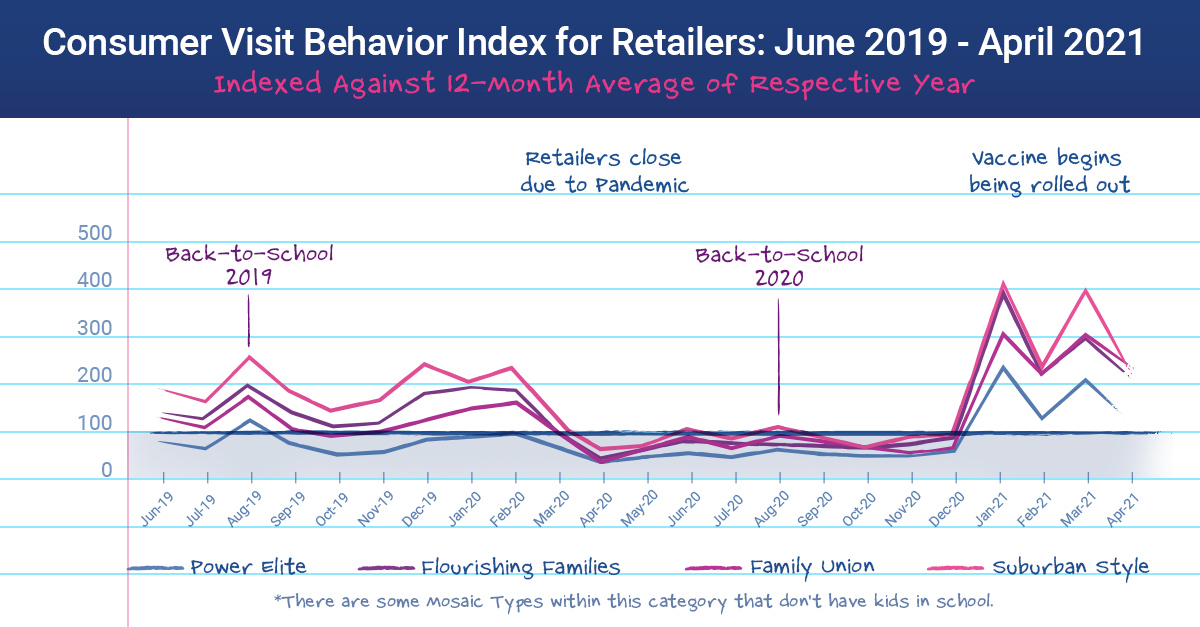 An index higher than 100 indicates shopping behavior that month was higher than the average of that year.
An index less than 100 indicates shopping behavior that month was less than the average of that year.
Planning store layouts and inventory will be more important this year for marketers as consumers return to the stores for Back-to-School shopping needs.
What will they buy?
Plan for Back-to-School product composition to be like pre-pandemic while you plan your inventory. Keep an eye on local outbreak risk which dictates whether school districts will pivot to remote learning. Product composition during the 2020 Back-to-School season was skewed away from apparel and towards virtual learning materials, such as home office supplies and technology, but should revert to pre-pandemic behaviors.
Using ConsumerViewTM Transactional data, we compared consumer product composition during the 2019 and 2020 back-to-school shopping seasons.
Children's Apparel and Accessories: share was smaller in 2020, and was a more dramatic impact for Groups A, B, and D.
Books: Groups B and D saw an increased share in 2020, but Groups A and I saw little change.
Home Office: share was greater in 2020 for all groups, particularly Group A.
Computers: share was greater in 2020 for all segments, particularly Group I
Want to learn more?
Improve your marketing ROI and grow your business during back-to-school season using Experian's new Discovery Platform. No sign-up required: watch the demo to learn how retailers like you can use The Discovery Platform™ to track online versus in-store shopping and safely navigate evolving back-to-school consumer behaviors.