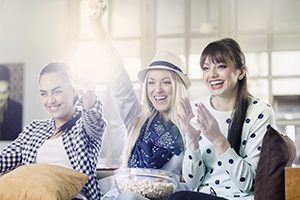 The way people consume television continues to evolve on a daily basis. Findings from a new Simon-Kucher study reveal that 84 percent of US participants (with a high affinity for streaming) have already replaced traditional TV with streaming services and 62 percent stated that traditional TV has become irrelevant. Gone are the days of a family gathering around the television to watch the same show. Instead, family members are watching services such as Amazon or Sling from connected devices, laptops or smartphones to catch up on recorded shows from their DVR on the go. Consumers now have the option to start watching an episode of their favorite show on their mobile device while on the bus heading home from work and then finish it on their smart TV back at home.
The benefit of advanced TV is that it lets the medium reach more people no matter what device they are using or where they are. And with those advancements, we've seen an evolution in television advertising – it's become more addressable, allowing advertisers to zone-in on customers beyond conventional demographics and specifically have their ads reach households that fit their customer profile.
The challenge is being able to properly track audiences through the process and effectively determine the path to purchase. A consumer may see a commercial on TV and make the decision to make the purchase, but it isn't until later that day when they see an ad online that they actually start the transaction. Perhaps they got interrupted by a text from a friend and forgot to complete the purchase. So, in theory, that sale has been lost, and the next day, on their way home from work, they pass the actual store and complete the transaction.
Attribution has become one of the most vital instruments of any marketing campaign. Businesses are welcoming and dissecting the wide-range of data and measurement services now accessible to them, and this data can come in the form of a business' own first-party CRM data or third-party data.
Additionally, measurement can be used to adjust campaigns to make sure you aren't wasting ad dollars and are instead targeting the right prospects. A perfect example of advertisers modifying their plans to fit today's market is Gulf States Toyota, one of the largest private distributors of Toyota vehicles and parts in the world. With stagnant sales, they went beyond the traditional demographic-based targeting that linear TV depends on, and transformed their strategy using a data-driven approach. The results were instant and impressive. In addition, they partnered with Experian and NinthDecimal to measure the campaign's effectiveness in driving people to dealerships. By connecting TV viewing behavior to offline behavior, they measured the incremental lift in dealership visits from those who saw the TV ads, compared to an unexposed control group. Gulf States Toyota's data-driven approach to Addressable TV and location-based measurement allowed them to both reach their target audience and measure their success like never before.
Similar to how website hits were the measurement standard in the 90s, viewership data is no longer the clear-cut metric to measure the success of a TV ad. High ratings no longer equate to actual engagement. Marketers need to start using TV to their advantage to target the right individuals. In addition, measurement will allow them to determine what is actually driving sales and what is wasting ad dollars so they can optimize their efforts. Using measurement to grasp the offline actions of consumers and gain further insights into their behavior will help propel your TV marketing campaigns.
To learn more about Experian's Advanced TV and Measurement solutions, contact us at (877) 902-4849 or experianmarketingsolutions@experian.com to learn more.