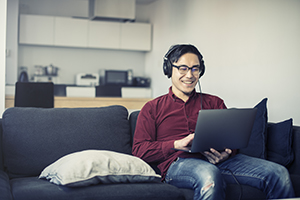 These days, the new normal is becoming the new now, but there are still some challenges to navigate—especially as we head into the busy holiday season. And with consumers being more and more discerning about who they spend their time and money with, marketers across every vertical are challenged with making an impact.
But it's not all doom and gloom—and in fact, it presents unique opportunities for marketers and brands to change their approach for the better. If you're looking for the best way to offer your customer a positive experience during this unusual time, here are some suggestions:
1. Communication, communication, communication.
Whether you're a restaurant or retailer, OEM or financial institution, communicating with your customers is key, especially if you're offering an in-person experience. You'll want to update them on new protocols, such as mask-wearing mandates, sanitization plans and other changes to the in-person experience, so your customer knows what to expect, but also so they feel safe. Similarly, if your operation is entirely online, either just for now or for the foreseeable future, sharing information about how your service has changed—and how your customer can still expect great service—is equally as crucial.
As CMS Wire pointed out in August 20201, GlobalWebIndex shared a report showing that 37% of social media users have visited a brand's social media page, 36% have liked or followed a brand on social media, 19% have asked a question to a brand on social media, and 15% have uploaded a picture or video to a brand's social media page. Plus, other reports show a 20% increase in consumers reaching out to customer service for support. It's clear that customers are looking to connect and communicate with brands in a variety of ways, so the easier you make that for them, the more confident they'll be in supporting your brand. Speaking of…
2. Enhance the online consumer experience (CX).
Entrepreneur shared insight2 from the Temkin Group that found companies with a turnover of $1 billion annually can expect to earn an additional $700 million within three years when they invest in CX. Technology plays a huge role in this, especially if your entire business is online. Making it easier for customers to buy what you're selling is always a good idea, no matter what lifestyle category you fall into. So, if it's time to upgrade your online shopping cart or enhance your website, don't dawdle. Similarly, if you're offering consults via Zoom or other conferencing platforms, make sure you're set up to give customers something that goes above and beyond to keep them coming back for more. And if there are ways you can personalize the online experience, even better. But don't rule out going the extra mile—Business.com recommends looking into AI experiences that can give your customer a more direct experience with what you must offer3, even if they can't be there with you in person.
3. Enhance the in-person experience.
Similarly, the more you can do to give your customer a reason to visit you in person (assuming it's safe), the better chance you have of getting them to do so (and coming back for more). Certainly, a safe and secure in-person experience is key, with social distancing guidelines, plans for managing busy influxes of consumers, and—of course—cleaning and sanitization protocols. But over and above that, can you offer curbside pick-up (BOPAC)? Do you have mobile ordering, or the opportunity to buy online and pick up an item in-store (BOPIS)? How about socially distant consults? What about gifts with purchase, or gift-wrapping opportunities, especially leading up to the holidays? Tesla is doing something interesting with socially distant test drives, where customers can take the Tesla of their choice for a spin with a pre-programmed route set by the dealership. Now is the time to get creative and see what resonates with your consumers!
4. Meet your customer wherever they are.
With the NFL hosting an altered season, big brands like Pepsi4 have had to get creative to make sure their customers know what they have to offer. According to Marketing Dive, the brand launched an initiative called "Made for Football Watching" to target all the viewers who will be at home instead of in the stands. Similarly, Disney, Hilton, Southwest Airlines and even the California Tourism Board have developed content that's being used across Pinterest, where searches for "RV Camping Trips" have jumped 1300%, "Road Trip Routes" surged 250%, and "airplane essentials" increased by 170%, along with a 250% bump for "vacation spots."5 Consider not just where your customers are physically, but where they are virtually—and show them how you can help them find what they're looking for and enhance their experience no matter where they are, or where they're going.
5. Remember that your customers are people, too.
Yes, we're all in a panic to figure out how to meet our revenue goals in this new world, but don't forget your customers aren't just walking dollar signs—they're people, and they're just as stressed out, confused and worried as the rest of us. As Business 2 Community points out, customer emotion data can be a big help in your "new normal" marketing plans6. Not only can it help you determine how best to communicate with your customer, it can help you learn the best forms of communication and how often to use them, and how you can best address their needs. The old-school manipulation tactics don't work anymore. The more you can connect and communicate with people on a one-to-one level, the better chance you have of supporting their needs, and creating a new, stronger connection going forward.
To learn more about how to connect with your consumers using the power of data, click here.
---
1 https://www.cmswire.com/customer-experience/7-ways-to-ensure-your-social-presence-improves-your-customer-experience/
2 https://www.entrepreneur.com/article/353979
3 https://www.business.com/articles/improve-online-customer-experience/
4 https://www.marketingdive.com/news/pepsi-champions-football-fans-stuck-at-home-as-sports-marketing-shifts-focu/583657/
5 https://www.marketingdive.com/news/disney-hilton-southwest-airlines-target-travel-planners-on-pinterest/583990/