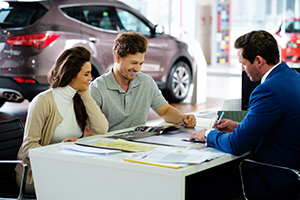 Marketing in the automotive industry used to be a simple process. Advertisements would be placed in newspapers and auto dealers would host events to lure customers into showrooms. However, the way people shop for cars has changed dramatically. Most consumers don't begin their car buying experience at dealerships—they start online with research and comparison shopping.
To help auto marketers actively evolve their marketing strategies and campaigns and effectively communicate with today's buyers, Experian Marketing Service has debunked a few myths:
Myth #1: Traditional advertising methods are still the most effective.
Advertising only on non-addressable linear television and direct mail is the way of the past. Digital channels are replacing physical interactions, creating various new interfaces between consumers and businesses. Marketers need to connect with today's consumers with a one-to-one message, wherever they may be, whether it's through TV and direct mail or online, social, email and mobile.
Savvy marketers have learned how to use one channel to support another to drive maximum results. The key for auto marketers is developing a multi-channel campaign that enables them to target custom audiences on specific channels.
The ability to measure and capture information about those points of interaction puts marketers in a position to apply data analytics and decisioning together to create a better customer experience.
Myth #2: Campaign success is measured by clicks.
Getting clicks is no longer the 'end all, be all' for measuring the success of a campaign. Sales-based attribution shows precisely how well your marketing initiatives perform by campaign, lead source, make/model and more. Marketers need to get a more complete view of their target audience response, including those who bought from their competition. Recognizing trends sooner and making well-thought-out decisions are critical when it comes to seeing results. Once marketers have a clear picture, the success of the campaign can be measured in automotive insights and analysis based on the most accurate, up-to-date Department of Motor Vehicles statistics, combined with demographic, lifestyle, psychographic and financial data.
Myth #3:  First-party data is king.
While first-party data is valuable in certain contexts, third-party data really amps up your ability to go beyond what you know – enriching customer profiles and reaching new customers. Collecting consumer data through a third-party is essential in today's market. Six out of ten executives believe sharing their data with third parties and tapping into additional data to enrich their customer profiles will help them create frictionless customer experiences. In fact, there is an increasing percentage of senior leaders exploring opportunities to share more data with third-party agencies and partners. With the responsible use of data, the usage of third-party data sources to augment your own will help you identify the right customers faster, and deliver enhanced customer experiences.
The Automotive News Power Training Webinar recently presented by Experian provides you with new information about automotive marketing KPI's. Watch the on-demand webinar: The Race to the Sale: Adopting OEM advertising KPIs for a record finish to learn about a range of marketing KPIs commonly used by OEMs and their agencies to measure advertising performance.