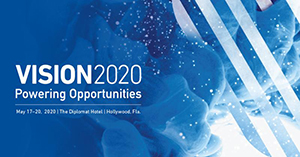 The marketing industry is constantly evolving. In some ways, marketers are expected to predict the future, or at the very least, stay on top of the latest data-driven trends. And at times, it can feel like an insurmountable task.
One of the ways marketers can accomplish this is by regularly coming together with the best and brightest in the industry to discuss ideas, share experiences and more. This is what occurs each year at Experian's Vision conference. The topics discussed enable business leaders to create future-focused, data-driven solutions in a multitude of functions – including marketing.
Historically, Vision has been focused on the financial services industry. This year, we've expanded the agenda and have a lot in store for marketers that you don't want to miss:
Know your customers via omnichannel marketing
Connecting the dots of cross-device engagement
How to meet your customers where they are
"By invitation only," the future of ITA marketing (NOTE: session attendance is not by invitation only)
From the Hill — a legislative outlook
Generational automotive shopping patterns
Global identity trends — new insights for 2020
Customer prequalification using geolocation
Innovation — what's next for Experian clients?
Real intelligence in conversational AI
Engage and retain throughout the consumer journey
Unleashing the power of the modern identity graph
You can learn more about all the topics slated to be discussed at Vision here.
Vision sells out each year, so register now!