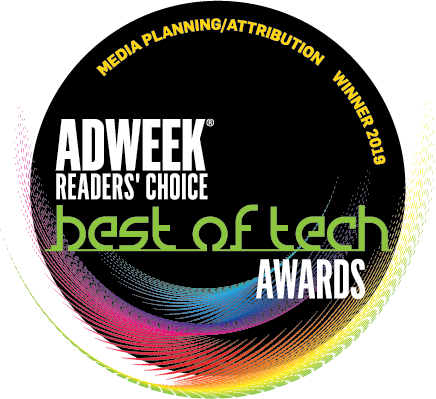 Experian has always prided itself on its many areas of expertise, as well as its dedication to providing our clients with advanced data and technology, which is why we are always so grateful when we are recognized for our commitment and loyalty to our customers. We are thrilled to announce that Experian was voted as the top advertising and marketing technology provider for media planning and attribution by the readers of Adweek, a leading advertising trade publication.
The recognition was part of Adweek's inaugural Readers' Choice: Best of Tech awards, which asked its readers to vote on solution providers across 24 advertising and marketing technology categories. What made this award so special is that it came from the readers themselves, brands who use our data and insights to interact with people in more meaningful ways.
In this new era of decentralized media, having an effective media plan is a crucial aspect of any marketing campaign. This award shows that more marketers are seeing this as a priority, with Experian being on top.
Experian is leading this advertising revolution is through Omnilmpact, a powerful measurement solution that allows marketers to quickly access actionable insights that improve their current marketing strategies while influencing their future campaigns as well. It provides best-in-class data and multi-channel measurements for television, digital, email and direct mail. Additionally, OmniActivation Strategic Services provides marketers with fully managed, data-driven digital campaigns across online, mobile and social. The process begins with audience segmentation and ends with post-campaign, closed-loop measurement.
Thanks to our clients and other readers of Adweek for recognizing the contribution we are making to the AdTech industry. Read our full announcement here.