As we head into the homestretch of 2017, one last major milestone remains – the holiday shopping season. For some brands, the final two months of the year can make or break an entire year's worth of success. Luckily for those brands, social media data sheds light on how to engage those highly influential consumers, helping you to spread your holiday message this season.
Social media is like digital word-of-mouth. Consumers express their interests and opinions with their social networks and share insights that can help you reach and resonate with them on a whole new level. But more than that, the continued surge in adoption of social media has led to highly influential people who can impact consumer purchasing behavior. Leverage that digital word of mouth to engage those high influencers, delivering messages to them that resonate so they will be more inclined to advocate for your brand.
As marketers prepare for the holiday season, we leveraged our Social Media Analysis solution to dig a bit deeper into the demographics, preferences and social behaviors of high influencers (consumers with more than 1,000 followers) on social media.
The analysis showed highly influential consumers were most active on social media from Monday through Friday between 9 a.m. and 1 p.m. eastern. Brand marketers targeting these highly influential individuals need to consider posting content during these times.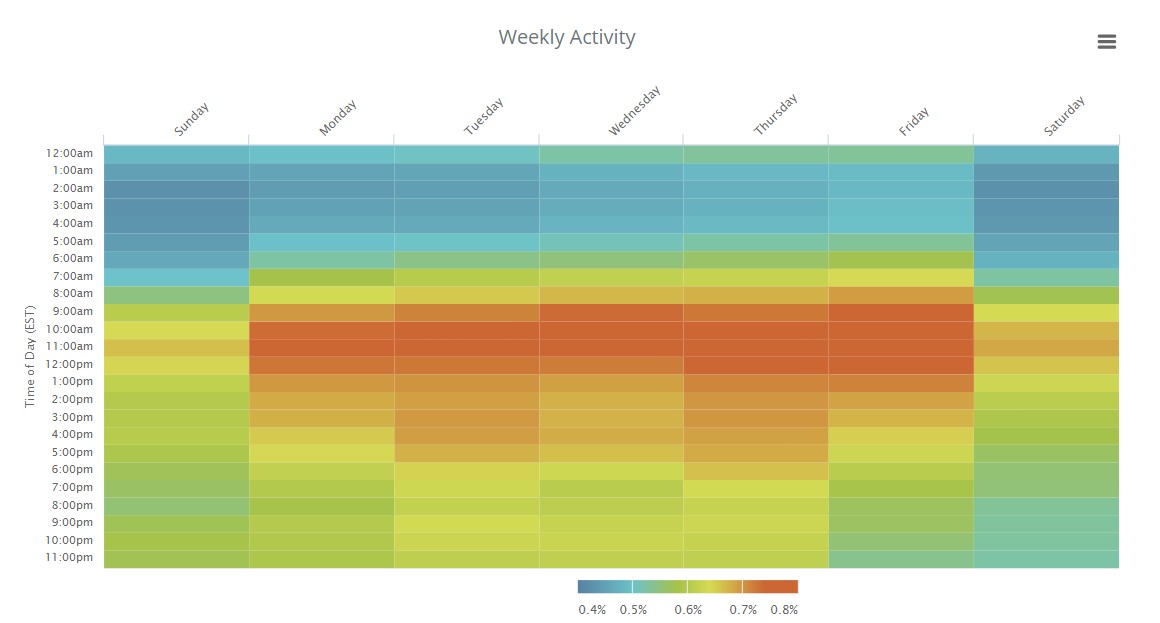 Our analysis also found the television programs these individuals were more likely to engage with included VICE News, PBS NewsHour, Good Morning America, Saturday Night Live and the Today show. Additionally, the types of brands these high influencers preferred to follow on social media were department stores (Amazon, eBay and Macy's), household music (Spotify, SoundCloud and RCA Records) and cosmetics (Urban Decay, Jeffree Star and Benefit Cosmetics). This level of information can help fuel media buys, partnership decisions and product placement.

Looking at the "who" behind the handle of these social influencers, from a demographic perspective, we found 45.81 percent of highly influential social media users fell between 31 and 50 years old, and were evenly split among men and women. These individuals were also more likely to fall within the life stages Experian refers to as "Jet Set Urbanites" and "Urban Edge" based on our Mosaic® lifestyle segmentation system. People in the "Jet Set Urbanites" segment tend to be affluent singles and couples living high-rise fashionable lives in the city. While people in the "Urban Edge" segment tend to be younger, up-and-coming singles, who live big city lifestyles near the top metropolitan markets.
Given these social media insights are consumer-generated, brand marketers have a unique opportunity to understand the behaviors and interests of their target audiences in an organic way, as well as enhance specific components of their advertising campaigns. Social media data provides insight and action in one effective swoop. And the marketer who turns the insight into action will propel their holiday campaigns forward, and better position themselves into the new year.
*This research is based on data from Experian's Social Media Analysis, which leverages SpotRight's active Twitter user profiles and Experian consumer data. Active is defined as consumers who have tweeted in the past 12 months.