As we get further into the largest consumer spending season of the year, we're keeping a close eye on holiday marketing trends in our Holiday Hot Sheet series. Here are the subject line trends we're seeing so far. You can use these insights to test in your own mailings and increase customer engagement this holiday season.
Subject line trends: Offers and mailing types
At the halfway point of the holiday season, we've looked at subject lines to see what types of offers and mailings have the best performance. The top open rate performers all have unique open rates above the seasonal average of 17.1 percent. Mailings mentioning coupons or offer codes in the subject line had the highest unique open rate, while mailings with personalized subject lines (names) have both high open rates and the leading transaction rate.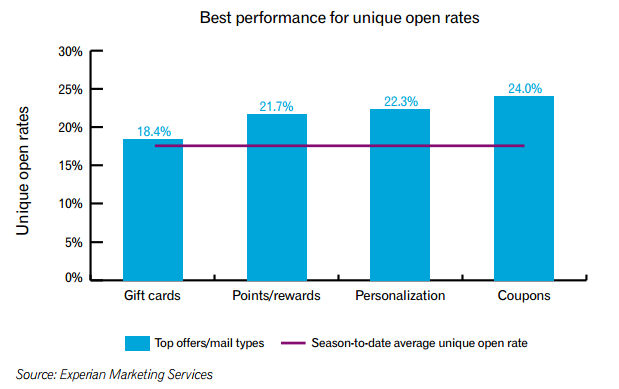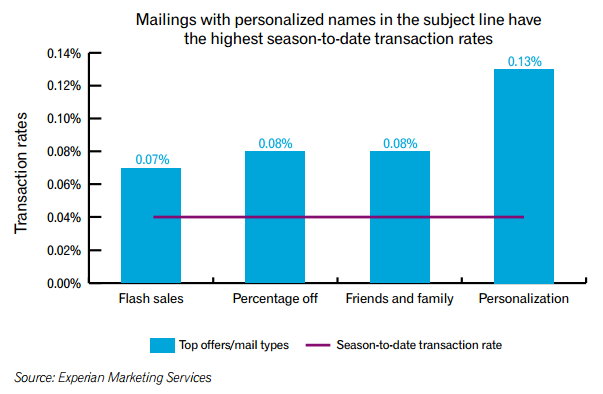 Subject line trends: Keywords
"Percentage off" mailings have higher than average transaction rates, and "% off" is the most common offer phrase in subject lines. Offering items that are "new" is the second most frequently occurring keyword and was seen in 10.8 percent of subject lines (up from 8.5 percent in 2014). Symbols are also quite popular this season, and appear in 4.5 percent of subject lines, compared to just 2 percent last season.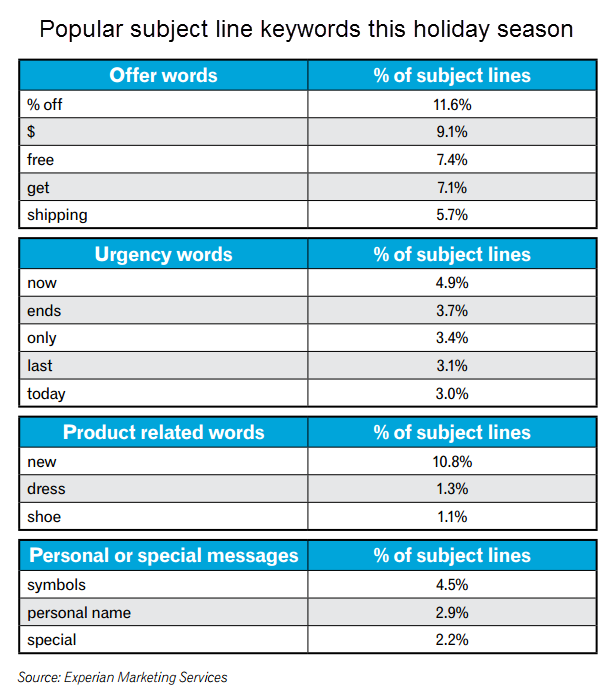 Bonus: Email and mobile shopping highlights
As in past years, Experian Marketing Services is taking a special look at the retail industry's holiday trends, measuring the performance of promotional emails from over 40 retail brands.
Nearly 88 percent of campaigns include an offer, with "percent off" the most popular form of offer, occurring in 53 percent of the campaigns.
Mobile apps are mentioned in 25 percent of mailings, and almost 5 percent of campaigns include an incentive to sign-up for mobile messages.
While 63 percent of campaigns include free shipping, more than half of those require some level of minimum spend in order for shipping to be free.
In addition to tracking promotional emails, Experian Marketing Services is also following SMS messages from 20 retail brands.
Eighty-four percent of these messages contained an offer, and just as with emails, 53 percent of the messages offered a "% off" discount.
Free shipping has only been mentioned in 10 percent of SMS messages so far this season.
For holiday insights like these delivered straight to your inbox, subscribe to our Holiday Hot Sheet series.