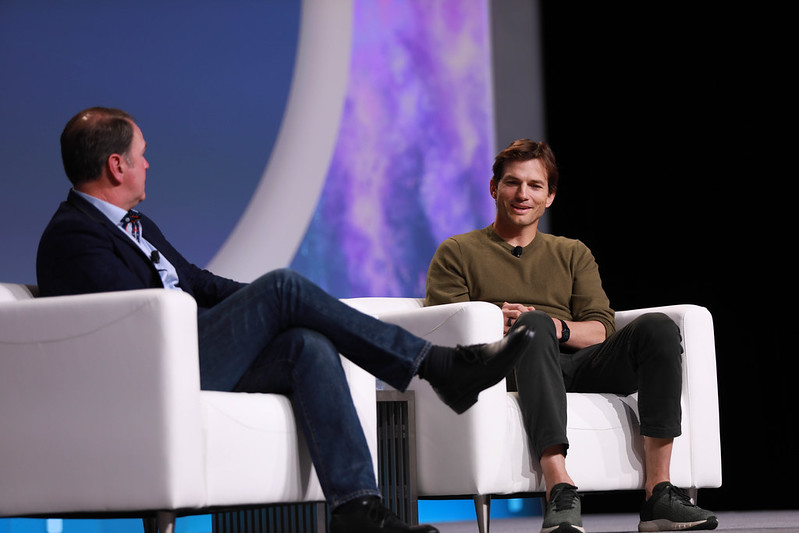 "I saw an opportunity to create change instead of asking for it."
Day 2 was charged up with new technology; new ideas; and new, clearer visions of where we can drive change across our industries.
Jeff Softley, President, Direct to Consumer, Experian Consumer Services, illustrated how the consumer is at the center of Experian's business with countless statistics and how our consumer advocacy drives our focus, growth and mission.
Wil Lewis, Global Chief of Diversity, Equity and Inclusion; Hiq Lee, President of Business Information Services; and Alex Lintner, Group President, Consumer Information Services, engaged in a panel discussion centered on reimagining inclusion.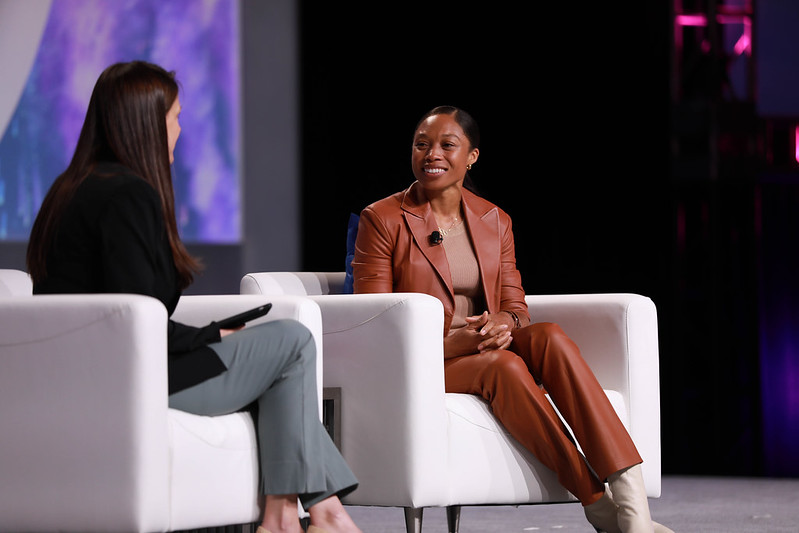 Keynote: Allyson Felix
Allyson Felix, five-time Olympian and most decorated Track & Field athlete, kicked off the day with an inspiring keynote touching on her athletic career, taking challenges head-on and using our platforms to make an impact. Felix, who is racing in the first race of her final season this weekend, is a tireless advocate, life-long learner, who seeks to empower others.
"We can all start where we are," she said. "Small things turn into big things."
Day 2 session highlights
From the breakout sessions, the theme of disruption was evident. We dove into how prescreen and prequalification have evolved, a demand that many must adapt to deliver in the post-pandemic world. Financial inclusion was a topic covered across the board, as were the strategies to be enacted to bolster these financial inclusion drivers. One such area addressed was how the rapidly growing buy now, pay later industry advances financial access and inclusion efforts. And speaking of evolution, retention must evolve as well — we heard how retention, recapture and risk strategies are transforming, particularly in the mortgage servicing space.
Rapid Model Development and Deployment – Feedback from businesses reflects organizations' desires for flexible deployment options, flexible integration with existing tech stacks, open source technology and the ability to incorporate multiple data providers. Today's solutions address that feedback as well as solve for the most rampant market challenges in new, innovative ways.
Strategy optimization with Artificial Intelligence and Machine Learning – Over 50% of financial institutions surveyed are using AI/ML in at least one department. Challenges include data management, operation, evolving the analytics program. ML/AI starts with proper data management. For optimization, templatizing ML frameworks is a necessity.
ID Verification, Authentication and Fraud – There were $56B in identity fraud losses in 2020, $13B of which were traditional identity fraud losses and $43B related to identity fraud scams. Leveraging strategies is necessary to maintain the critical balance required for identity verification and fraud – mitigating losses and risk exposure, drive optimal customer experience, maintain regulatory compliance.
Maximizing Customer Value – The monthly data refresh is a thing of the past. When reimagining account review for risk and marketing purposes, remaining agile is key with increased data freshness for operational efficiency.
Keynote: Ashton Kutcher
The energy, insights and ideas have been reverberating throughout the venue for the past 48 hours, which set the stage for Ashton Kutcher's closing keynote.
The Chicago Bears fan talked about his career, how hard work wasn't an option when he was growing up and how part of his assessment process for potential investments – determining whether they create efficiencies in the market – he sometimes thinks of a long-standing, personal benchmark – the air nailer.
He talked about his philanthropy efforts, the mission behind his company Thorn, and the ability for people to impact change and achieve "a sense of agency" over the outcome of the future.
"That's the human spirit. That's the spark that exists – that people understand that you can sit in despair, or you can do something," he said.
It has been an amazing two days – we can't wait for Vision 2023!