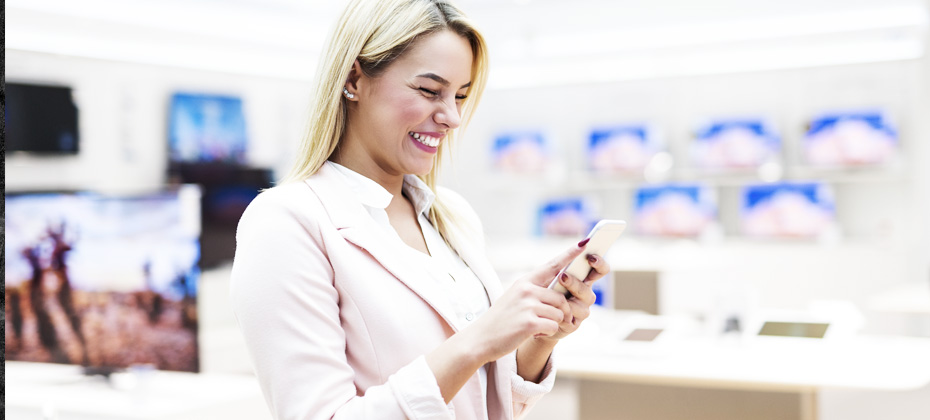 This summer, Experian is releasing the market's first-ever credit solution that enables consumers to apply for credit with a simple text message. Utilizing patent-pending mobile identification through our Smart Lookup process, most consumers will be recognized by their device credentials and in turn bypass the need to fill out a lengthy credit application.
To learn more about this new technology and how the innovation came to market, we interviewed Steve Yin, Experian's Vice President of New Ventures for the DataLabs. Yin has worked with a few dozen clients to gain feedback and gauge interest on this idea, which was birthed in early spring 2016.
1. Tell me about Experian's DataLabs. How long has it existed and what type of work is produced here?
The DataLabs was started a bit over six years ago by Eric Haller – current Global EVP of the DataLabs – with the vision of providing an advanced data R&D, analytics, and incubation capability for Experian and our largest clients. The group started with one lab in San Diego supporting a handful of business units in North America. Today we have DataLabs on three continents supporting all the business units and geographies where Experian does business around the world.
The work we focus on is usually new market and new data/technology. We endeavor to follow an experimental design approach in most of our projects and products: identify a problem, develop a hypothesis, and execute on research to germinate a solution. Given our relatively small size compared to Experian overall, we must be very disciplined about the types of projects and products we take on. We filter projects by potential impact (big marketing, complex problems, leveraged opportunities) and probability of success. Our projects are initiated by one of three primary avenues: client discussion/request, internal discussion/request, and organic discovery within the DataLabs.
2. Text for CreditTM is one of Experian's newest products, and I understand the DataLabs was instrumental in the development from concept to end-product. How did this idea emerge and shape in the Lab?
The concept evolved after talking with our clients who were trying to figure out how they could provide access to credit to potential customers through their mobile devices.
With the explosion of smartphones and the attachment people have to them, it felt odd that the credit application process had not evolved to synch up with the mobile experience individuals enjoy in every other aspect of their lives. Customers don't want to fill out lengthy forms to apply for credit, nor do they want to discover they may not qualify for a credit offer at the cash register after being invited to open a store card. We wanted to find a way to provide the customer with the ability to apply for credit seamlessly on their devices, limiting the fields of data they needed to supply, and also enhance the overall credit experience for retailers and consumers.
Our DataLabs allow us the runway to preform breakthrough experimentations with data.  After trial and error with many different approaches in the lab, we knew we had a winner with text for credit.  It's easy to use, the customer experience is frictionless, it requires minimal infrastructure from our clients and it can be implemented to solve for a large variety of instant credit situations.
3. What excites you most about this product?
This has been a fun project. There are several things that make it cool, and most revolve around the reception we've had with clients, knowing that we're delivering something innovative and useful to our clients, their partners and ultimately to consumers. We're enabling a segment of the consumer landscape to interact with financial institutions on their own terms, from their mobile devices.
4. Have clients been closely involved in providing feedback on the concept and overall product design?
Definitely. We've been working with clients on refining the concept, design and delivery of Text for Credit since almost day one. We learned very early on that private branding and a flexible user experience would be important since clients have different needs and desires relative to user flow. We also learned that simple integration with existing systems would enable adoption. And critically, we confirmed that providing a total solution rather than small components would enable us to position Text for Credit very differently and facilitate a great end-user experience for our clients.
5. Mobile is now clearly a dominant channel for consumers, and it only makes sense for lenders to embrace it. Is there more on the horizon for the world of mobile and credit optimization?
Text for Credit is a beachhead of our broader mobile discovery and development. As clients begin to embrace delivery of credit in a mobile-first environment, we can foresee evolutions like the location-based triggers and integration with cross-channel marketing initiatives spanning social media, paid electric media, market places, and perhaps even integration with voice. In addition to this broadening of offerings, we may also look to creating greater functional value for clients in specific verticals where mobile devices are inherently suited for data and decision delivery. This could include streamlined credit in retail, auto, and mortgage markets where being able to offer credit at the right time, at the right place, to the right people would deliver great value for our clients. I think we're in a unique position as a company to deliver on this promise within the credit space.