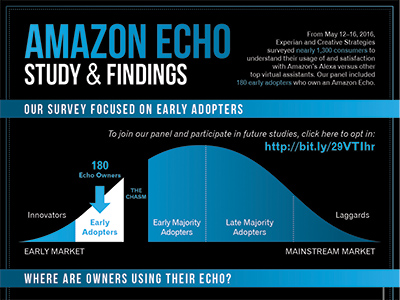 Smartphones offer brands a ubiquitous, continuous and contextual delivery channel, and yet it requires us all to learn a new language of taps and swipes to navigate through apps. Often this poses more complexity that manifests in friction for the consumer who must wade through a series of screens to have a question answered. Messaging and conversational interfaces offer the possibility of a clean and simple user experience without having to learn a new syntax.
It is that ease of use and the resulting utility of a conversational interface in controlling and automating mundane tasks that have manifested itself in the popularity of Amazon Echo.
Echo users in our survey are overwhelmingly satisfied with Alexa's voice recognition and we found that 39% plan to use it more frequently. As Apple cuts away wires and doubles down on Siri – baking it into both accessories (Airpods) and Home (Apple TV) we will find ourselves squarely in a voice-first future. I believe voice and messaging will significantly lower technology thresholds that exist around applications and services, increasing both accessibility and usability for consumers.
Recently I joined Aaron Suplizio and Ben Bajarin of Creative Strategies to conduct a joint-survey to ask questions of a segment of early adopters in tech, on the topic of conversational commerce. The survey audience constituted nearly 1300 smartphone users of smart voice assistant tools including 180 Amazon Echo owners.
Download the infographic to learn more about the trends in new voice-based habits, the types of tasks Echo owners are requesting of Alexa, and general consumer satisfaction with the voice-recognition capabilities of Alexa relative to other smart voice assistants (Siri, Google).
Even if you are just starting to think about its impact on banking, retail and the overall customer lifecycle – Experian can help with creating the right strategy and validating your approach. Click here to schedule a conversation with the
Experian Global Consultancy if you would like to receive more insights from our Conversational Commerce survey, and what it means to your business.