Electronic signatures and their emerging presence in our Internet-connected world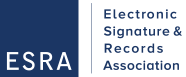 I had the opportunity to represent Experian at the eSignRecords 2015 conference in New York City last week. The concept of electronic signature, while not new, certainly has an emerging presence in the Internet-connected world — as evidenced by the various attendee companies that were represented, everything from home mortgages to automobiles.
Much of the discussion focused on the legal aspects of accepting an electronic signature in lieu of an in-person physical signature. The implications of accepting this virtual stamp of approval were discussed, as well as the various cases that already have been tried in court. Of course, the outcome of those cases shapes the future of how to properly integrate this new form of authorization into existing business processes.
Attendees discussed the basic concept of simply accepting a signature on an electronic pad as opposed to one written on a piece of paper. That act alone has many legal challenges even though it provides the luxury of in-person authentication through a face-to-face meeting.
The complexities and risk increase exponentially when these services are extended over the Internet. The ability to sign documents virtually opens up a whole new world of business opportunities, and the concept certainly caters to the consumer's need for convenience. However, the anonymity of the Internet presents the everyday challenge of balancing consumer expectations of greater ease of use with necessary fraud prevention measures. Ultimately, it always comes back to understanding who is actually signing that document.
All of this highlights the need for robust authentication and security measures. As more and more legal documents and contracts are passed around virtually, the opportunity to properly screen and verify who has access to the documents gets more critical.
Many organizations still rely on the tried-and-true method of knowledge-based authentication (KBA), while many others have called for its end. KBA continues to soldier on as an effective way to ensure that people on the other end of the wire are who they say they are by asking questions that — presumably — only they know the answers to.
In most cases, KBA is viewed as a "check the box" step in the process to satisfy the lawyers. In certain cases, that's all you need to do to ensure compliance with legal policy or regulatory requirements.
It starts to get tricky is when there's more on the line than just "check the box" actions. When the liability of first- or third-party fraud, becomes greater than simple compliance, it's time to implement tighter security, while at the same time limiting the amount of friction caused by the process.
Many in attendance discussed the need for layers of authentication based on the type of documents that are being processed and handled. This speaks directly to the point that one size does not fit all.
As the industry matures and acceptance of e-signatures increases, so too does the need for more robust, flexible options in authentication.
Another topic — that was quite frankly foreign to everyone we talked to — was the need for security around the concept of account takeover. When discussing this type of fraud, most attendees did not even consider this to be a hole in their strategy.
Consider this fictional scenario. I'm responsible for mergers and acquisitions for my publicly traded company. I often share confidential information via electronic means, leveraging one of the many electronic signature solutions on the market. I become a victim of a phishing attack and unknowingly provide my login credentials to the fraudster. The fraudster now has access to every electronic document that I have shared with various organizations — most of which have been targets for mergers and acquisitions.
Fraudsters are creative. They exploit new technologies — not because they're trendsetters, but because oftentimes these new technologies fail to consider how fraudsters can benefit from the system.
If you are considering adopting e-signature as a formal process, please consider implementing:
If you haven't considered implementing e-signature technology into your business process, you should — but be sure to have your fraud team present when considering the implementation.