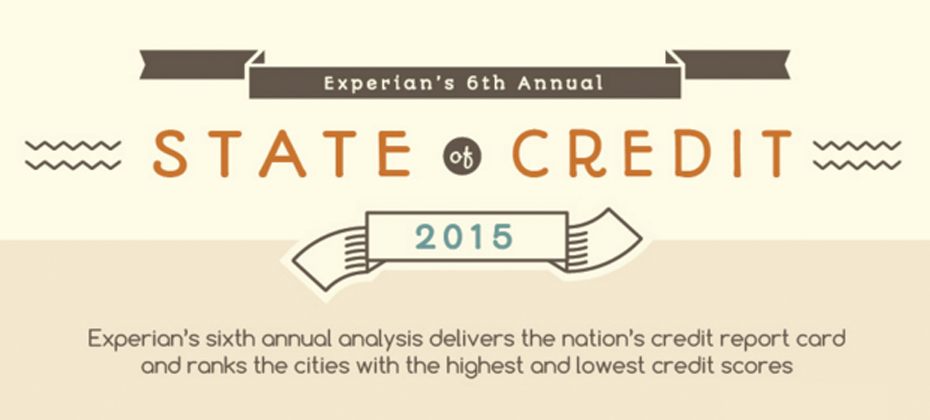 Hello from the other side …
While Adele scores big on the Billboard Hot 100 by crooning of coming to terms with a lover from the past, a new Experian "State of Credit" reveals we are officially on the "other side" of the recession – at least if you're looking at the nation's credit scores.
While the bottom of the Great Recession was reached in the second quarter of 2009, steady job growth was not seen until 2011, and even since, some economists claim it has been a "Tortoise Recovery."
But key findings from Experian's 6th annual study, ranking top and bottom cities across the nation in regards to credit, suggests the U.S. is strong.
"If I were to give a grade to the overall picture of credit in the United States, I would give it an A minus," said Michele Raneri, Experian's vice president of analytics and new business development. "I'm optimistic about the state of credit as we are seeing more loans being extended, late payments are decreasing and consumers are continuing to gain more confidence in originating loans. There definitely is growth and momentum — we're back to prerecession levels in nearly every category, which means lenders are in a prime position to capitalize on this market and foster business growth."
Which states topped the credit charts?
As in previous years, Minnesota continues to shine with three of its cities — Mankato, Rochester and Minneapolis — leading with credit scores of 706, 705 and 704, respectively.
Greenwood, Miss. and Albany, Ga. ranked the lowest with scores of 612 and 622. While still at the bottom of the list with a score of 612, Greenwood, Miss., residents did improve their score by three points, more than any other city in the bottom 10.
Overall, the report reveals the national credit score increased by three points over the last year (and by five points since 2013) and the 10 cities with the highest credit scores in the nation increased their scores by an average of 1.8 points. Additionally, bankcards, retail cards and mortgage lending showed significant growth, making this year's study an indicator of the nation's confidence in the credit market.
Just in time for the election year, this year's study includes insight into how residents of these top and bottom metropolitan statistical areas (MSAs) identify politically. The study found that half of the highest-scoring cities have residents whose views skew more middle of the road, while residents of lower-scoring cities are more likely to lean conservative. The full lists of the top 10 and bottom 10 cities are featured (scores are rounded to the nearest whole number).
Detailed study highlights include the following changes over the last year:
The national VantageScore® credit score is up by three points, from 666 to 669.
Bankcard lending continues to increase, with new bankcards up 7.7 percent.
The average number of bankcards per consumer is up 2.8 percent to 2.24 cards.
Retail card lending also is on the rise, with a 10.8 percent increase in new originations.
The average number of retail cards per consumer is up 0.3 percent to 1.55 cards from last year and up by 7 percent since 2013.
Instances of late payments (includes bankcard and retail) decreased by 4.4 percent over the last year and by 17.3 percent since the height of the recession in 2010.
Average debt2 is up 2.1 percent to $29,093 per consumer.
Mortgage originations increased by 42.5 percent.
For a more complete look at the above cities as well as the other MSAs studied, visit http://www.livecreditsmart.com to view a fully interactive map and infographic.
Purchase The Experian Market Intelligence Brief, a quarterly report that includes more than 70 charts and data trends on loan originations, outstanding loans and delinquency performance metrics spanning three years.