HELOC originations grew 27 percent year over year in Q2 2014. The Midwest experienced the greatest year-over-year growth at 36 percent, with the other regions faring as follows: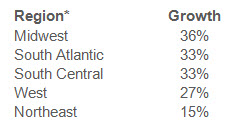 Lenders can stay ahead of the competition and adjust marketing strategies accordingly by monitoring regional credit trends.
Source: Download our recent Webinar on the latest credit trends and the current state of the U.S. real-estate market.
*Region definitions
Midwest: IN, OH, NE, MI, KS, IA, SD, MO, ND, WI, IL, MN
South Atlantic: NC, GA, SC, WV, DE, VA, MD, FL, DC
South Central: TX, KY, MS, OK, TN, AL, AR, LA
West: UT, CO, NM, ID, AK, WY, MT, WA, OR, AZ, NV, HI, CA
Northeast: PA, VT, CT, ME, MA, NH, NY, NJ, RI