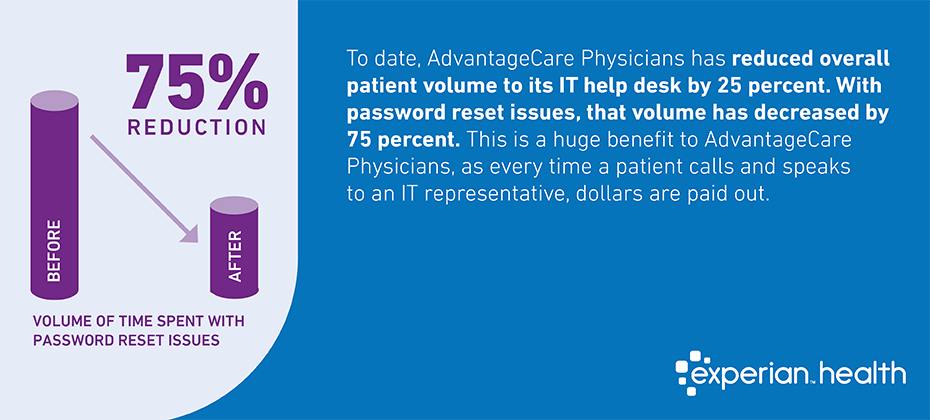 People increasingly expect immediate access to information at their fingertips. They want online access for everything from food delivery to healthcare. But as healthcare organizations enroll more patients through online access, how do they protect themselves from data breaches without impeding patient engagement?
Data breaches are more prevalent and costlier than ever. Up 6.4 percent in 2018 compared to 2017, the global costs of data breaches reached $3.86 million last year.
The healthcare industry has been particularly hard-hit. Over 90 percent of organizations have experienced a data breach since 2016, and more than 180 million records have been stolen since 2015.
Just last year, a Missouri-based healthcare organization discovered that its patient portal was vulnerable for more than a month after hackers installed malware. In that time, almost 6,000 patients' debit and credit card numbers could have been compromised. This incident alone demonstrates that improving cybersecurity in healthcare is vitally important.
This is why one of New York's largest medical groups, AdvantageCare Physicians, made it a priority to strengthen the security of its Epic MyChart by adding a multilayer identity verification step at the time of patient enrollment and throughout every portal access request thereafter.
Patient identity verification secures patient portals
More than just satisfying the need for constant connectivity, patient portals are exceptionally helpful. They allow patients to access test results, view their medical record, schedule appointments online, and communicate with their providers from their mobile devices.
Despite online platforms being a target for hackers, AdvantageCare Physicians executives know that patient portals help patients engage in their healthcare and empower them to take control of their health. So the organization turned to the same technology that is trusted by banks, retailers, and government agencies to protect this valuable tool.
Identity-proofing technology can quickly authenticate patients when they access an online portal by evaluating the identity, device, and risk factors of a given user. This multilayered check happens in a second so patients aren't left waiting on a load screen. Through continuous protection that ensures complete security without sacrificing ease of use, patients' trust grows because they know their electronic medical records are safe.
This patient trust can go a long way. A Software Advice study found that due to concerns about data breaches, 21 percent of patients keep information from their doctors. Securing its patient healthcare portal with Experian Health's Precise ID helps AdvantageCare Physicians open up communication to provide better care. This, in addition to improving access to resources, supports the organization's goals of improving health management and promoting wellness.
These additional verification steps also protect AdvantageCare Physicians from compliance risks. For example, the Centers of Medicare and Medicaid Services' Promoting Interoperability standards set out requirements for collecting and maintaining electronic medical information to ensure healthcare cybersecurity. Experian's Precise ID complies with this and many other programs.
Decreased need for IT support
Given the many advantages of a fully protected patient portal, AdvantageCare Physicians' final concern was the effect of increased self-service traffic. More users accessing the portal more regularly might create bottlenecks. But patient identity proofing actually increases the platform's user bandwidth.
For example, Precise ID streamlines the process for patients signing up. Traditionally, AdvantageCare Physicians' IT department would have to validate each new patient identity on the back end, but Precise ID can quickly authenticate these users. This has reduced the need for IT support by 80 percent. IT also spends less time correcting records because letting patients create their own accounts increases accuracy while reducing the number of duplicates.
Online self-service platforms for healthcare organizations like AdvantageCare Physicians enhance patient care. But just like any other online transaction, patients need to know that any information they provide through the portal is secure. Sufficient cybersecurity for its healthcare portal lets AdvantageCare Physicians focus on delivering the personalized resources patients need without the worry of a data breach.
Learn more about how to reduce risks during patient enrollment.