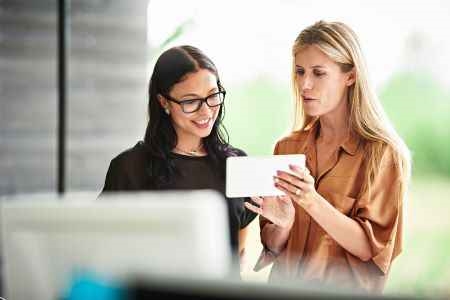 It's another year-end season, but some payroll departments may still be adjusting to the new normal of remote or hybrid work. Previously a necessity, now remote work is offered as a perk to attract and retain key talent. Many payroll workers may also be telecommuting. If you have not adopted an updated approach for remote year-end operations already, this blog details what to consider with a hybrid workforce.
Payroll teams also have multiple major regulatory changes that started in 2020 to comply with. For example, Notice 2020-54 from the IRS requires employers to report amounts paid for qualified family and sick leave under the Families First Coronavirus Relief Act (FFCRA), using Form W-2 or a separate statement.
Essentially, payroll professionals have been busier than ever the last few winters, and it won't be drastically different this year. Adept team management as well as the right combination of people, processes and technologies are how payroll teams keep pace with constantly changing regulations and hybrid workforce locations.
Adapting to remote work in payroll
Telework has its pros and cons in payroll.
On the pro side, it gives payroll teams more flexibility in how, when and where they work — something employees realize. Most respondents to the June 2020 U.S. Remote Work Survey from PwC said they hoped to telecommute at least once per week even after COVID-19 subsided. Likewise, 55% of employers planned to offer this option.
On the con side, remote work can make employees feel more isolated. Buffer highlighted this trend in its 2020 State of Remote Work report. So, what's necessary for productive remote work? This year-end season and beyond, payroll departments will need to ensure they have:
An eye on compliance
Remote work raises the complexity of determining tax withholding, due to nonresident taxation statutes that vary by state. Per the American Institute of Certified Public Accountants (AICPA), 16 states have reciprocity agreements with their neighbors, under which nonresidents of those states are exempted from income tax withholding. COVID-19 has also led to a slew of tax payment and due date relief measures, plus other exemptions, which AICPA has chronicled.
A clear management strategy
Ensuring proper payroll operations is only possible if payroll teams are in sync regardless of their locations. A revised check-in strategy is particularly useful here – instead of traditional performance reviews, many organizations are moving toward more frequent check-ins, with templates that employees fill out in advance to ensure every meeting is well-structured, according to SHRM.
The right tools
Staying in touch via email isn't enough. Platforms like Zoom and Teams provide more in-depth interactions, not just for meetings but for informal events like virtual happy hours, too. Video conferencing can also be integral to onboarding and training processes. While these workflows have become largely virtual, they still need to provide an informative, useful and personal experience to new hires and current employees — and that's easier with real-time collaboration.
Together, these components support adequate remote work preparation, plus adherence to implementation project plans for year-end activities. In other words, tasks such as preparing and reconciling W-2s and testing everything are easier with a coherent remote work policy and infrastructure in place.
Managing forms, from W2s and ACA statements to the new W-4
Electronic form delivery has been preferable to mailing those same documents for a while now. But the increase in remote work makes it — along with secure access to other documents like pay statements via the cloud — even more advantageous and important to implement:
First, electronic delivery ensures workers get their W-2s and ACA statements as quick as possible. Getting those forms via mail might mean waiting a couple of weeks, delaying tax filings and refunds.
Second, it reduces pressure on payroll teams, by freeing them from the hassles of managing printed statement delivery.
Finally, electronic statements with secure access make the entire year-end season a little more manageable by lessening the prospect of employees calling in to ask where their W-2s are or how they can access older records.
In addition to overseeing the delivery of staples like the W-2 and the ACA statement, payroll teams have another W-4 revision to the new W-4 that was introduced in 2020. The new W-4 eliminates allowances and changes how multiple jobs and spouse work are handled, among other updates. It may take less or more time to complete, depending on the complexity of an employee's taxes.
Payroll professionals participating in the American Payroll Association's (APA) October 2020 online chat about the remote year-end season reported that some employees had questions about the new process for claiming "exempt" status on the W-4, as well as about whether they could revert to the old form. To quickly answer the latter, filling out a new W-4 won't be necessary unless a worker starts a new job or wants to change their withholding.
Impact of FFCRA, CARES and payroll tax deferment
As described earlier, FFCRA requires reporting of sick and family leave wages. This can be done on the W-2 directly, or on a separate statement that accompanies the W-2. For electronic W-2s, the statement should be delivered at the same time and in the same manner as the W-2 itself, according to the IRS.
The CARES Act also affects W-2 reporting. ADP has noted that the legislation includes an optional tax exclusion for an employer's contributions to an employee's student loans, up to $5,250. However, those contributions may still need to be reported as taxable income on state W-2s if the state(s) in question haven't adopted that measure.
Need some extra guidance this year-end to make sure your payroll team can stay on top of all of these evolving regulations while they're remote? Experian Employer Services and our extensive partner network can help. We offer a wide range of compliance solutions.