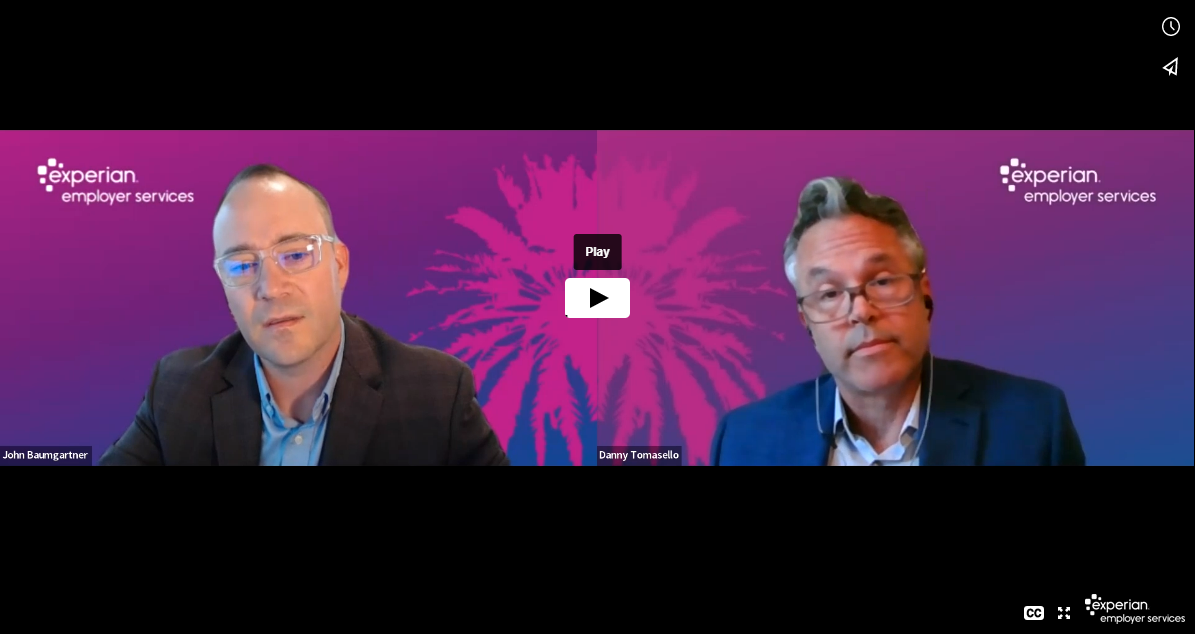 HR and Payroll Departments are responsible for helping their organizations re-emerge from the pandemic and retain key talent. For them to succeed it's vital they work together, especially to remain compliant with a hybrid workforce.
Yet 25 percent of poll respondents during this webinar think they work at the same company as their payroll manager but couldn't say for sure. When HR and Payroll leaders work together, they can improve the employee experience to attract and retain key talent, and master compliance in the 'new' jurisdictions where their hybrid workforce is located.
John Baumgartner and Danny Tomasello discuss tools to help HR, finance, payroll, tax and total reward pros accomplish compliance goals for payroll tax, unemployment, verification fulfillment and more.
The following is an excerpt from "Between Two Palms," a webinar on hybrid workforce compliance broadcast live in partnership with Argyle Executive Forum.
Danny Tomasello: What we mean by this, master compliance in new jurisdictions, is the hybrid workforce. Again, as we mentioned, they can be anywhere. That has great impacts on the organization and so again encouraging HR and payroll to collaborate on some of these things and of course the CFO's CHRO's that typically are at the Argyle events that I hope are paying attention, in the weeds, making sure that their resources are having conversations and getting together and are supported on a regular basis.
What I mean by 'new jurisdictions' is if an employee decides that they're going to work remotely, say three days a week, there are things called "de minimis", where now you've had a certain amount of time that you're in a jurisdiction, that jurisdiction wants to collect their taxes. What that means is a registration requirement to do business in that jurisdiction where you may not have had offices before. So you literally have to sign up even for business licenses.
There are state disability insurance. In California here we get state disability insurance, but if you move to a jurisdiction it doesn't have that, as an employee you may not even know that you lost that, so you may talk to your employees about getting some disability insurance outside of what the employer is going to provide.
Of course then you also have to make sure you register with your workers compensation carrier if an employee were to get hurt on the job make sure that work comp carrier has your jurisdiction, your new jurisdiction, covered for you.
There are new labor laws in that jurisdiction you may not been aware of before onboarding, such as there are all sorts of local restrictions and registrations as well so it's a matter of having somebody go through and make sure you know exactly where the employee is, communicating with managers of those employees making sure "hey if you moved or if you were planning a move make sure you communicate that to us," so that they can cover all those bases you don't want to have any surprises that you didn't realize an employee was now working remotely somewhere that you had no idea.
John Baumgartner: That's very helpful, so how does someone without your expertise there, Danny, find out these new laws and regulations?
Danny: A lot of the companies that we work with have a compliance team that may try and stay on top of those things, otherwise you really need to consult with someone. There are consultancies out there you can hire and outsource for things like what CIC Plus provides: a compliance library that has between 75 and 300 forms depending on where you are that the employees can complete electronically.
So we stay on top of those forms. If they change you can let your all of your employees know there's been an update but things like family medical leave act, gender equity forms, lactation rights, a whole slew of HR related forms to maintain compliance in, so if you don't have the internal resources that are monitoring nationwide, again there are a lot of forms out there to stay on top of, so if you do business in one state or a handful of states then you could probably stay on top of it if it's something where now, because you're allowing remote and you could be in all 50 states, you may want to consider outsourcing or having some kind of professional monitoring these things for you.
John: There's a question, Danny, about attrition, how can we predict what that looks like. Just very quickly we have some tools proprietary in nature, they can do just that through our workforce prediction analytics…