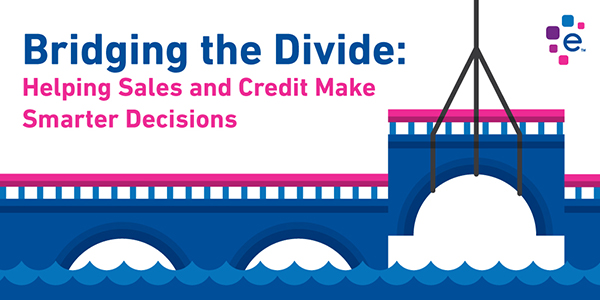 Collaboration between sales and credit departments takes good communication and mutual respect for each team's objectives. Sales want to close as much business as possible to achieve their goals while the credit department is responsible for mitigating risks and enabling opportunities for the organization.
Such cooperation requires a high degree of communication that, until now, has been difficult to achieve, especially if the bulk of the sales force is out in the field.
To bridge the sales and credit divide, Experian is introducing a solution to the problem. BusinessIQ Mobile is a self-service app that allows users to quickly evaluate the risk profile of prospective clients while away from the desktop. Leveraging the comprehensive decisioning capabilities of DescisionIQ, your sales teams have the power to enforce your credit policies while providing instant decisions on new prospects.
The idea behind Experian's new BusinessIQ Mobile app was simple: Put the power of BusinessIQ decisioning in the hands of the field sales teams. We wanted to enable any company that employs an external sales force to pre-screen prospects based on the organization's credit policy.
To achieve this, we worked one-on-one with our customers to develop the solution. The app was field-tested and refined based on user feedback. We listened closely to what our customers wanted and delivered an application that helps both sales and credit departments to achieve their mutual goals.
How BusinessIQ Mobile Works
Using BusinessIQ Mobile, field sales representatives simply look up a prospect before making first contact. This enables them to more efficiently target their sales efforts by approaching prospects that will be credit approved. This not only helps salespeople be more efficient, it saves customers the embarrassment of believing they've been approved for credit, only to learn that the terms have changed.
BusinessIQ Mobile serves the home office as well. We designed the app so that searches done in the field are immediately synced with the client's BusinessIQ web-based application. This allows credit departments to monitor what's happening in the field and govern activities occurring hundreds or even thousands of miles away. If a salesperson challenges a credit department's decision, the credit manager can use the desktop application to further evaluate the policy decision and, if justified, override the original decision. The salesperson then logs back in and sees the adjusted terms.
In short, we've created a tight, consistent information loop that serves the company, the salesperson and the customer. For any company that is trying to empower its sales department, this is a great tool to do just that.
Click to learn more about BusinessIQ Mobile and the benefits it can provide your organization.