Banks, financial institutions, and credit unions are constantly rolling out new features to add value for customers, help protect the security of their transactions and generally keep their customers' money safe.
Here are some of the latest offerings to help you manage your finances more easily and securely:
Locking Your Credit Card or Debit Card For Certain Transactions
Regions Bank, which has 1,500 branches in the South and Midwest, rolled out Regions LockItSM, which lets you use their mobile app to lock and unlock your credit or debit cards.
The unique feature (that I haven't seen offered before) is that you can select between four different options to customize the authorizations based on your spending habits. For instance, you can lock and unlock:
All transactions: if you're not going to be using your card for a bit
In-store purchases: if you only plan to use a card online or at ATMs
Online purchases: if you only plan to use the card in person
ATM transactions: if you won't be using your card at ATMs
If your card is locked and you need to use it somewhere, you can quickly unlock it via the mobile app.
You will also be able to see a log of all blocked transactions to easily determine if there are fraud attempts on your account and you'll get alerts on your phone as well.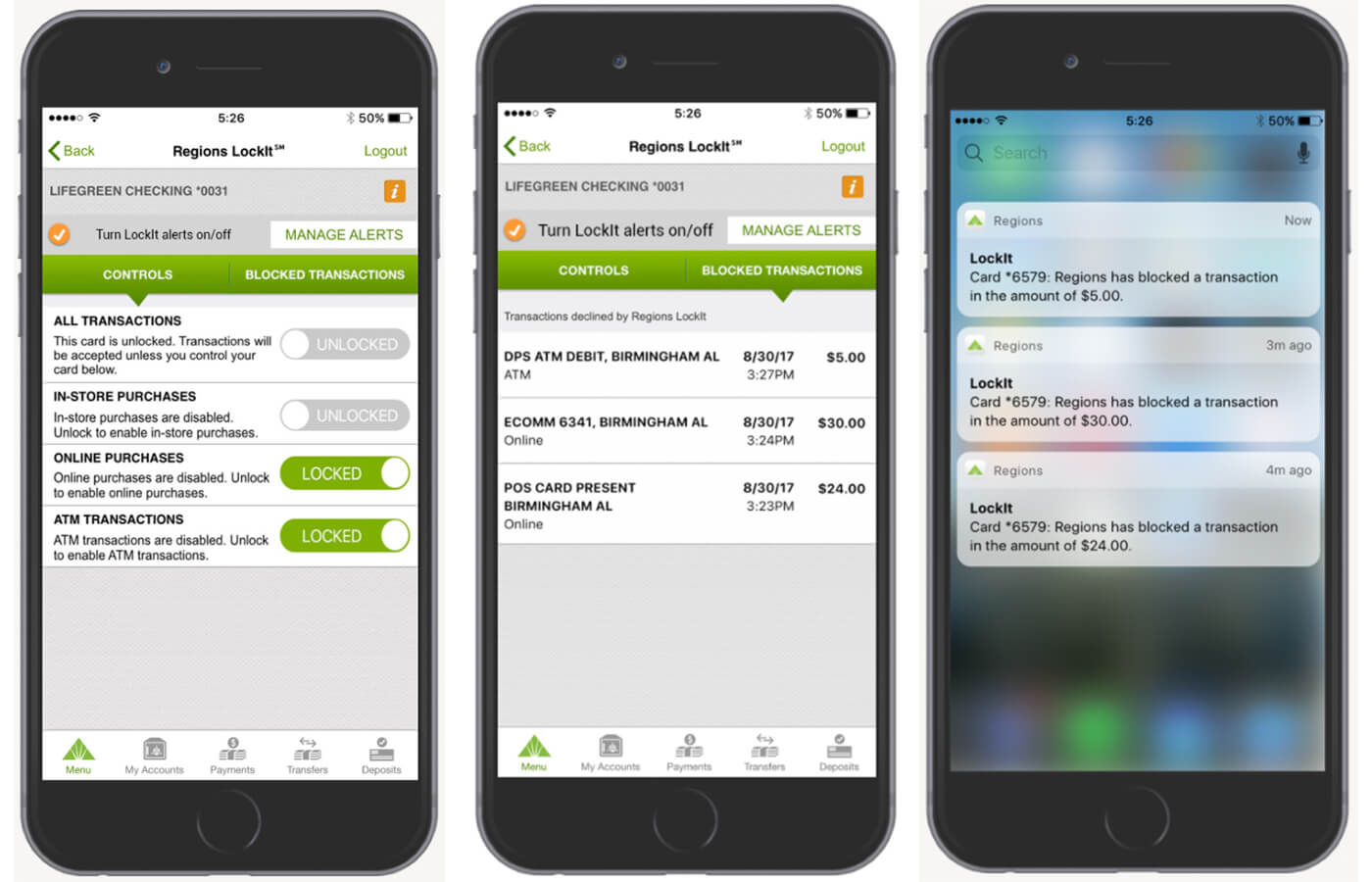 No Card Necessary For Your ATM
Several major and regional banks are now offering cardless ATMs, including Bank of America (BofA), Wells Fargo, and Fifth Third Bank. How exactly do they work? It varies slightly depending on your bank:
1. Bank of America
Bank of America offers two cardless options. The first option is that you can start an ATM transaction on your phone if you need to head to the ATM, but you're in a rush.
You choose the amount of cash you want and then use your phone's digital wallet (via Android Pay™, Apple Pay® or Samsung Pay) and your PIN at an ATM to get your money. You have 24 hours to complete the transaction and you, of course, can still only get out an amount that's in your bank account at the time you complete the ATM transaction.
The second option they offer is to add your Bank of America debit card to your phone's digital wallet. Then you can swipe your phone on the contactless symbol and enter your PIN to use the ATM without a debit card.
2. Wells Fargos
Wells Fargo introduced cardless ATMs last year and to use theirs you get a unique, one-time use code via the app. It's an eight digit code and you have 30 minutes to use it at an ATM by entering the access code and your PIN.
3. Fifth Third Bank
Fifth Third Bank is headquartered in Cincinnati, OH and operates approximately 2,500 ATMs across ten states. They announced last month that they're offering cardless ATMs to their customers by signing into their app, choosing the account from which they want to withdraw money and tapping on the new Cardless ATM icon. You then touch anywhere on an ATM screen, scan the code that appears, and enter your PIN.
Other banks are likely to roll out similar options for cardless ATMs as digital options increase across the industry.
A Credit Card Company Without Any Cards
Virtual cards are springing up as options from large financial institutions and start ups. They give consumers a way to spend digitally and protect themselves against fraud.
Affirm is a point-of-sale lender founded by PayPal co-founder Max Levchin who offers micro loans that consumers can pay off in monthly installments. In March, they announced users can now access money via Apple Pay, so users can tap their smartphones in store to pay via Affirm.
Is Amazon Going To Offer Online Banking Soon?
Rumors started circulating in March that Amazon might be looking to get into the online banking space in an effort to save money on transaction costs (it was reported on the Wall Street Journal and other major publications).
Nothing official is announced and potential bank partners such as JP Morgan Chase aren't commenting, so we'll have to wait for now to see what happens. However, Retail Dive reported this Tuesday that Forrester released a survey of more than 46,000 adults who are active online (approximately 33,000 in the U.S. and 13,000 in the U.K.). Results show that 28% of U.S. respondents and 25% from the U.K. would trust Amazon to provide them with a digital mobile wallet.
---
Want to instantly increase your credit score? Experian Boost™ helps by giving you credit for the utility and mobile phone bills you're already paying. Until now, those payments did not positively impact your score.
This service is completely free and can boost your credit scores fast by using your own positive payment history. It can also help those with poor or limited credit situations. Other services such as credit repair may cost you up to thousands and only help remove inaccuracies from your credit report.