At Experian, one of our priorities is consumer credit and finance education. This post may contain links and references to one or more of our partners, but we provide an objective view to help you make the best decisions. For more information, see our Editorial Policy.
If you need to start building your credit, or if you've had serious credit problems in the past and need help putting the pieces back together, a secured credit card may not be your only option. The Milestone® Mastercard® is an unsecured credit card intended for those trying to access credit without a security deposit and improve their credit score. But you'll have to pay an annual fee, and possibly an account opening fee, for the privilege.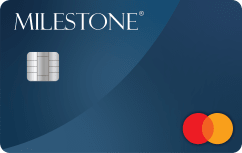 Milestone® Mastercard®
Apply
on Genesis FS Card Services's website
Recommended FICO® Score*
Poor - Good, New to Credit, Rebuilding
Card Details
Get credit for all of your hard work. Milestone Card reports to all three credit bureaus
Mobile account access at any time
Fraud protection for stolen or lost cards
Don't have perfect credit? No problem!
A way to build on your credit history
All credit histories considered
| Pros | Cons |
| --- | --- |
| Helps build credit | High interest rate |
| Prequalify without impacting credit | Annual fee, and for some, account opening fee |
| No security deposit | No balance transfers |
Customer service contact info for Genesis FS Card Services
Genesis FS Card Services PO Box 4477
Beaverton, OR 97076-4477
Experian Review
When your credit score is less than stellar and you're trying to build or rebuild your credit, smart use of a credit card can help boost it. But here's the dilemma: It's hard to qualify for a credit card if you don't have a solid credit history.
If you're able to pay your bills on time and carry very little debt, the Milestone® Mastercard® can help you achieve your goals and give you the convenience of a credit card. It's made specifically for those who need to improve their credit, so it's potentially easier to qualify for than other credit cards.
The card has no rewards program, and it does not offer the option to transfer a balance. But it does offer online account servicing 24/7 for no extra charge, so you can easily stay on top of your transactions and bills. You also get access to Mastercard Benefits. Just know that in exchange for getting approved, you'll have to pay some fees and a steep interest rate.
A Card for People With Bad Credit
The Milestone® Mastercard® is designed just for people with poor credit, either because they haven't yet had the chance to build credit, or because their credit has been damaged and needs repair. While this card's standard interest rate of 24.90% annual percentage rate (APR) is higher than most credit cards, it's actually pretty competitive compared with similar cards designed for people with bad credit. But most important, you are likely to be approved for this card, no matter how bad your credit is. The minimum credit line they offer is $300, so you'll at least start with that amount.
After using this card responsibly for a while—meaning you pay your bills on time every month and keep your low credit utilization ratio as low as possible—you should start to see an impact on your credit score.
Rebuild Your Credit With No Deposit
For people with bad credit, one of the main ways to access credit is to get a secured credit card. Some secured credit cards don't have an annual fee, but they do require an upfront refundable security deposit before you can open an account. The Milestone® Mastercard®, on the other hand, does have an annual fee, but there's no deposit required.
If you don't want to submit a refundable deposit, it might be worth it to consider an unsecured credit card like the Milestone® Mastercard®. In exchange for an annual fee and a high APR, you'll get access to an unsecured card, and your payments are reported to the three major credit bureaus (Experian, TransUnion and Equifax). With a year or two of responsible use, your credit should be stronger and you might be able to qualify for a credit card with a lower annual fee and more robust benefits.
Keep the Multiple Fees in Mind
The annual fee the Milestone® Mastercard® is $35. Some applicants are also required to pay a fee to open the account. However, the card issuer says the fee to open the account plus the annual fee will never exceed $75 total. Also, be aware that if you have a late payment or go over your limit, you'll pay up to a $40 fee each time.
Authorized-User Policy
The Milestone® Mastercard®'s terms don't have any information about adding an authorized user, so this is not the card to use if you want your child or spouse to have a card.
The Bottom Line: Opportunity Comes at a Cost
When you're trying to build or improve your credit, it can be tricky to find a financial institution that will let you borrow money. But the Milestone® Mastercard® prides itself on offering an opportunity to those whose credit need a little help. This simple card has no bells and whistles; it offers no balance transfer feature and no rewards. It's made to be easier to qualify for than most credit cards, and since it's not a secured card, you won't have to pay a deposit. Your payments are reported to the credit bureaus, so as long as you use the card responsibly and maintain good habits with your other accounts, you'll eventually watch your credit score climb and be able to get something better. The card does come with an annual fee and a high interest rate, but if your credit needs improvement, it might be a worthwhile tradeoff and a great place to start.