At Experian, one of our priorities is consumer credit and finance education. This post may contain links and references to one or more of our partners, but we provide an objective view to help you make the best decisions. For more information, see our Editorial Policy.
The Journey Student Rewards from Capital One card helps college students with average credit boost their credit scores and build good credit habits. It also offers cash back rewards with no annual fee, travel perks, and useful credit monitoring and account management tools that students just learning to manage a budget will appreciate.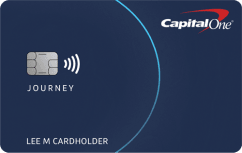 Journey Student Rewards from Capital One
Apply
on Capital One's website
Recommended FICO® Score*
Fair
Journey Student Rewards from Capital One
1%
cash back on All Purchases
Earn 1% cash back on all your purchases. Pay on time to boost your cash back to a total of 1.25% for that month.
Card Details
Earn 1% cash back on all your purchases. Pay on time to boost your cash back to a total of 1.25% for that month
Earn $5 per month for 12 months on Select Streaming Subscriptions when you pay on time. *Exclusions Apply
Enjoy no annual fee and no foreign transaction fees
You can help build your credit with responsible use of a card like this
Pick the monthly due date that works best for you
Be automatically considered for a higher credit line in as little as 6 months
$0 fraud liability if your card is ever lost or stolen
Monitor your credit profile with the CreditWise® app, free for everyone
Customer service contact info for Capital One
1 800-227-4825
Capital One
Attn: General Correspondence
P.O. Box 30285
Salt Lake City, UT 84130-0287
| Pros | Cons |
| --- | --- |
| Unlimited cash back on every purchase | High APR |
| Earn extra cash back for paying on time | No sign-up bonus or introductory financing offer |
| Requires only average credit | No bonus rewards categories |
| No annual fee | |
| No foreign transaction fees | |
| Travel and credit monitoring benefits | |
Experian Review
The Journey Student Rewards from Capital One card is a relatively straightforward student credit card that offers unlimited 1% cash back on every purchase and charges no annual fee. With lots of useful features to help manage your credit, plus the ability to boost your rewards rate and credit limit by using the card responsibly, this card has a lot going for it for students just starting to build a credit history.
Get More Perks for Good Credit Habits
Learning how to manage credit is essential to successful adulting, and this card helps you build those skills by rewarding you for good credit habits. If you pay your bill on time every month, you'll earn an additional 0.25% cash back each month, increasing the rewards rate to 1.25% total. In as little as six months, Capital One will consider you for a higher credit line. (To make sure you never miss a due date, use the card's autopay feature to set up automatic payments each month.)
Keeping an eye on your credit score to spot fraud or errors helps you maintain good credit. The Journey Student Rewards from Capital One card comes with access to CreditWise from Capital One®, which gives you unlimited access to your credit score. CreditWise also monitors your credit and sends you alerts when your TransUnion or Experian credit report changes or if your Social Security number is found on the dark web.
There's no annual fee for this card—something anyone on a student budget is sure to appreciate.
Have Peace of Mind When Traveling
Are you planning a semester abroad, gap year or vacation overseas in the near future? The Journey Student Rewards from Capital One card has several features that may help make foreign travel easier, more affordable and more secure. For one thing, as a Mastercard, it's widely accepted all over the world. For another, there's no fee on foreign transactions. Many credit cards charge a fee on every purchase you make overseas. Those fees tend to be about 3%, an amount that can eat into your precious travel budget. This card eliminates those extra fee costs so every penny can go toward making memories.
Whether you're heading to Budapest, Boston or Botswana, Mom and Dad will sleep easier at night knowing this card is in your wallet. The Journey Student Rewards from Capital One card includes 24-hour travel assistance, so if your card is lost or stolen while you're traveling, you can get a replacement card and a cash advance right away. Will you be renting a car? Pay for it with this card and take advantage of the Auto Rental Collision Damage Waiver, which covers your rental vehicle against damage from collision or theft.
Keep Track of Your Spending
Download the Capital One® Mobile App, available for iOS and Android, to help manage your account and maintain the good credit habits you're working to establish. You can pay your bill, view your balance and see your transactions, set up personalized email or text reminders to stay on top of your spending and payments and get notified if there's any suspicious activity on your account. The app offers 24/7 access to your monthly recurring transactions, such as streaming subscriptions or cellphone bills you've set up to pay with your card, so you can spot anything unusual. You can also access CreditWise® via the app.
If your card is misplaced, lost or stolen, you can instantly lock it in the mobile app to prevent anyone using it. If you find the card again, just unlock it. There's zero fraud liability, so you aren't responsible for fraudulent purchases you report to Capital One.
Capital One's virtual assistant, Eno®, is a cool feature of the mobile app. Eno can quickly answer questions about your account or alert you to potential issues, such as a possible duplicate charge or a recurring bill that suddenly jumps. When you shop online, Eno helps protect your identity by generating a virtual card number for each merchant. Use the virtual number to pay without revealing your credit card number. If the virtual number is breached, you don't have to get a new credit card—you just cancel the virtual number. Keep an Eye on the APROne drawback of the Journey Student Rewards from Capital One card is its hefty 26.99% (Variable) APR. If you carry a balance from month to month, that interest can quickly add up. To avoid paying any interest on the card, make it a goal to pay off your balance in full each month by the due date. This is a good money management habit to get into anyway.
Additional Info
| | |
| --- | --- |
| Purchase APR: 26.99% (Variable) | Grace Period: 25 days |
| Transfer APR: 26.99% (Variable) | Annual Fee: $0 |
| Cash Advance APR: 26.99% | Balance Transfer Fee: 3% of the amount transferred if a promotional APR applies; $0 at the transfer APR |
| | Cash Advance Fee: $10 or 3% of amount of cash advance, whichever is greater |
| | Foreign Transaction Fee: None |
| | Late Payment Fee: Up to $40 |
Authorized User Policy
You can add anyone you trust—your boyfriend, girlfriend, roommate, etc.—as an authorized user on this card. There's no credit check: All you need is their name, phone number and date of birth. The authorized user will get a card with their name on it and you'll earn rewards on every purchase they make.
Parents often add children as authorized users on their credit cards to help the children build a credit history, but as a student just starting to build credit, there is more risk than reward in letting someone else share your credit line. Although Capital One makes it easy to keep tabs on your authorized user's spending, you're ultimately responsible for all charges on the card. That means if you break up with your significant other or have a fight with your roommate, you could end up footing the bill for all their Grubhub orders... while living on ramen for the rest of the year.
Is This Card Right for You?
If you're a student with a limited credit history, you can get approved for this card with just average credit and quickly increase your credit limit if you demonstrate responsible payment habits. You'll earn cash back rewards on every purchase, get bonus rewards for paying on time, and pay no annual fees or foreign transaction fees (every dollar helps when you're a starving student!). There are plenty of convenience features to help manage your account, keep an eye on your credit and track your spending. All in all, the Journey Student Rewards from Capital One card can be a good beginner credit card for those just learning to manage credit.