At Experian, one of our priorities is consumer credit and finance education. This post may contain links and references to one or more of our partners, but we provide an objective view to help you make the best decisions. For more information, see our Editorial Policy.
First Progress offers three secured credit cards for people who are new to credit or rebuilding their credit. These cards have the same application requirements and similar features, but offer a choice between a lower annual fee or lower interest rate. The Platinum Select Mastercard® Secured Credit Card is the middle option.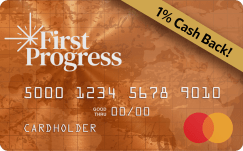 Platinum Select Mastercard® Secured Credit Card
Apply
on First Progress's website
Recommended FICO® Score*
Poor - Good, New to Credit, Rebuilding
Platinum Select Mastercard® Secured Credit Card
1%
Cash Back on Payments
Earn 1% Cash Back Rewards with First Progress! Make Payments, Earn Rewards.
Card Details
Make Payment and Earn 1% Cash Back with First Progress Select!
Have $200? Break Down Credit Barriers with the First Progress Secured Card Today!
No Credit History or Minimum Credit Score Required!
Pay a Deposit and Start Establishing Credit With Just $200!
Manage your statements, transactions and rewards on the First Progress Card Mobile App!
Good for Car Rental, Hotels; Anywhere Credit Cards are Accepted!
Monthly Reporting to all 3 Major Credit Bureaus to Establish Credit History
Credit Line Secured by Your Fully-Refundable Deposit of $200 -- $2,000 Submitted with Application
Get a Fresh Start! A Discharged Bankruptcy in Your Credit File Will Not Cause You to Be Declined.
Apply to Add a First Digital Mastercard to your wallet after 6-months of on-time payments!
| Pros | Cons |
| --- | --- |
| Cardholders earn cash back rewards on payments | Annual fee |
| No credit history or minimum credit score required | Foreign transaction fees |
| Reports to all three major credit bureaus | No upgrade path to an unsecured card |
Customer service contact info for First Progress
(877) 724-0932

First Progress
P.O. Box 9053
Johnson City, TN 37615-9053
Experian Review
If you're working to establish or rebuild your credit, the Platinum Select Mastercard® Secured Credit Card could be a good option because there's no minimum credit requirement. It also earns cardholders cash back rewards on payments. However, there's an annual fee, $200 minimum deposit and few cardholder benefits.
No Minimum Credit Requirements
While secured cards are designed for people who are building or rebuilding their credit, some cards still have minimum credit requirements. The Platinum Select Mastercard® Secured Credit Card doesn't, which means you may be approved even if you recently had a discharged bankruptcy or are brand new to credit and don't have any credit history.
First Progress does a "soft pull" on your credit report to verify your identity, but this does not record an inquiry and will not affect your credit. If you don't have a credit file, First Progress may ask for alternative forms of identification, such as a government ID and utility bill.
Keep in mind, though, you could get denied for non-credit reasons. For example, you might not be able to get another First Progress card if you've previously been approved for a card through them.

The Annual Fee and Interest Rate Trade-Off
Ideally, you can pay your bill in full each month and won't have to pay interest on your purchases. If you carry a balance, a lower annual percentage rate (APR) can save you money on interest.
All three First Progress cards have the same qualification requirements, benefits and usage fees.
The Platinum Select Mastercard® Secured Credit Card is the middle option with a $39 annual fee and moderate rates.
If having a low APR might tempt you to carry a balance, or you expect to rarely carry a balance and pay it off quickly when you do, the lower annual fee card might be a better option. Also, consider one of the many secured cards that don't have any annual fees.

Limited Cardholder Benefits
Like many secured credit cards, the Platinum Select Mastercard® Secured Credit Card doesn't come with a wide range of cardholder benefits. For example, there's no purchase protections.
Here are a few of the things the card does offer:
Cardholders earn 1% cash back rewards on payments
Zero liability for unauthorized purchases
Choose your security deposit amount (either $200 to $2,000), which will also determine your credit limit
Reports your account and payments to all three major credit bureaus—Experian, TransUnion and Equifax
A basic credit card without a lot of frills might be a good fit if you're building or rebuilding your credit. You can look for a full-feature unsecured card once you've established your credit and have a good score.
Consider the Fees
In addition to the annual fee, there are a few other fees to know about before you apply. These include common fees, such as a fee if your monthly payment is late or gets returned.
You'll also pay a 3% foreign transaction fee on purchases made outside the U.S. This fee is fairly common for secured and unsecured cards alike, although there are some card options without it.
Additionally, there's an option to pay $19.95 for expedited application processing. This can cut down the processing time from about seven to 10 business days to three to five business days. In either case, you'll still need to wait for the card to be created and mailed to you, which can take a couple of weeks.
Once you close your card, you'll get back your security deposit (minus any outstanding balance you have on your account). It can take up to 10 weeks for you to receive the check.
Additional Info
| | |
| --- | --- |
| Purchase APR: 18.49% Variable | Grace period: 25 days |
| Transfer APR: N/A | Annual fee: $39 |
| Cash advance APR: 24.49% | Balance transfer fee: N/A |
| Minimum interest charge: $1.50 | Cash advance fee: 3% ($10 minimum) |
| | Foreign transaction fee: 3% |
| | Late payment fee: Up to $41 |
| | Returned payment fee: Up to $30 |
Authorized-User Policy
First Progress doesn't allow authorized users on this card.
Is This Card Right for You?
The Platinum Select Mastercard® Secured Credit Card could be a good option if you're brand new to credit, or have had credit troubles in the past and want a secured card that doesn't require a credit check. But also consider the lower-fee option from First Progress if you can avoid carrying a balance, and look into secured cards without an annual fee from other companies.