At Experian, one of our priorities is consumer credit and finance education. This post may contain links and references to one or more of our partners, but we provide an objective view to help you make the best decisions. For more information, see our Editorial Policy.
Designed for frequent travelers, the Discover it® Miles card offers simple and flexible travel rewards. You get 1.5 miles for every dollar spent, there's no cap on rewards, and miles can be redeemed for just about anything travel-related. No annual fee, a generous sign-up bonus and a special intro APR for new cardholders add to the card's appeal.
Discover it® Miles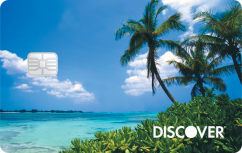 Apply
on Discover's website
Recommended FICO® Score☉
Good - Exceptional
11.99% - 22.99% Variable
Intro APR: 0% on Purchases and 10.99% on Balance Transfers for 14 months
1.5x
miles on All Purchases
Intro Bonus: Mile-for-Mile match of all Miles earned the first year
Card Details
UNLIMITED BONUS: Only Discover will automatically match all the Miles you've earned at the end of your first year. For example, if you earn 35,000 Miles, you get 70,000 Miles.  There's no signing up, no minimum spending or maximum rewards. Just a Miles-for-Miles match.
Earn unlimited 1.5x Miles for every dollar spent on all purchases - with no annual fee.
Turn Miles into cash in any amount, any time. Or redeem as a statement credit for travel purchases like airfare, hotels, rideshares, gas stations, restaurants and more with no blackout dates. However you redeem, Miles keep the same value. And Miles never expire
No Blackout Dates. Simply pay for travel purchases like airlines, hotels, rental cars, and more with your Discover it® Miles card.
Freeze your account in seconds with an on/off switch either on the mobile app or website to prevent new purchases, cash advances, and balance transfers.
Get your free Credit Scorecard with your FICO® Credit Score, number of recent inquiries and more.
Get an alert if we find your Social Security number on any of thousands of Dark Web sites.* Activate for free.
| Pros | Cons |
| --- | --- |
| Flexible rewards redemption | Rewards rate could be higher |
| Intro APR for new cardholders | Discover cards not widely accepted outside U.S. |
| Generous sign-up bonus | |
| No penalty APR | |
| No annual fee or foreign transaction fee | |
Customer service contact info
1-800-DISCOVERDiscover Financial Services
P.O. Box 30943
Salt Lake City, UT 84130-0943
Experian Review
Whether you're a globe-trotter who spends six weeks a year on far-flung adventures, or frequently take short trips to visit family, a travel rewards card can help offset some of your travel costs. But some travel rewards cards make earning and redeeming rewards so confusing that it may seem easier to stay home. If you're looking for simplicity, flexibility and financial incentives, the Discover it® Miles card could be the perfect solution. A combination of flexible travel rewards that can be redeemed any number of ways, a tempting sign-up bonus and introductory APR, plus no annual fee give this card lots of appeal.
Flexible Travel Perks: Miles, Hotels, Car Rental and More
The Discover it® Miles card gives you 1.5 miles for every dollar spent, plus lots of flexibility in how you redeem those miles. Miles can be redeemed for cash or travel purchases including airline tickets, hotel rooms, car rentals, cruises, travel agent fees, online travel sites and more. You can even redeem miles for commuter transportation such as taxis, ferries and railways.
If you've ever been driven mad attempting to redeem airline miles while working around blackout dates, you'll appreciate the ease of redeeming this card's travel rewards. You can redeem miles for flights on any airline or stays at any hotel—no need to stick to a limited list of preselected travel partners. Better yet, there are no blackout dates to maneuver around, so you can spend your time planning your dream vacation instead of coordinating calendars.
There's no cap on the number of miles you can earn, so this card's potential to garner travel rewards is restricted only by your credit limit. You can redeem your miles at any time—even with as little as one mile—either as cash deposited directly to your bank account or as credit for travel purchases made with the Discover it® Miles card within the previous 180 days. Whether you use them for travel or cash, your miles will convert at the same rate. Miles never expire and you never lose them, even if your account closes.
End-of-Year Bonus for New Cardholders
As an incentive to apply for this card, Discover is offering an unlimited year-end bonus. At the end of your first year as a cardholder, Discover will automatically match all the miles you've earned, with no limit on the number of miles matched. For example, if you've earned 35,000 miles, Discover will double that to 70,000 miles, which is worth $700 toward travel purchases or cash rewards.
Few Fees or Penalties
Some credit card issuers love to slap on lots of fees, but Discover isn't one of them. The Discover it® Miles card charges no annual fee, no foreign transaction fees and no over-limit fees. There are plenty of reasons not to miss a credit card payment, but if you happen to miss one on this card, Discover will give you one free pass by charging no late fee on your first late payment. There's no penalty APR either, so you don't have to worry that a late payment will send your APR soaring sky-high. That said, there's really no excuse for paying your bill late when Discover makes it so easy for cardholders to pay on time. You can pay your bill online or by phone up to midnight (Eastern time) the day it's due, and unlike many cards, there's no fee for paying by phone.
Safety and Protection Is a Primary Focus
Keeping your personal financial data secure should always be top-of-mind. That's why Discover offers so many safety features to protect your account. For example, you can activate alerts to get a warning if your Social Security number is found on the dark web or if a new account suddenly shows up on your credit report. If your Discover it® Miles card is lost, misplaced or stolen, no worries: You can freeze your account instantly from the Discover Mobile app or website and have a replacement card overnighted to you for free to any U.S. street address. There's zero fraud liability on this card, so you can rest easy knowing you're never responsible for unauthorized purchases.
The Discover Mobile app, which is available for iOS or Android, makes it easy to manage your Discover it® Miles card anywhere, anytime. Log in quickly and securely with Discover Touch ID to check your account balance, see your account information, make and edit payments, add your card to Apple Pay and more. The mobile app also lets you redeem rewards of $20 or more for gift cards and e-certificates from Discover's partners. You'll get free access to your FICO® Score☉ through the app, so you can keep an eye on your credit score and maintain good credit.
Additional Info
| | |
| --- | --- |
| Purchase APR: 0% intro APR for 14 months, then 11.99% - 22.99% Variable, based on creditworthiness | Grace Period: 25 days |
| Transfer APR: 10.99% intro APR for 14 months, then 11.99% - 22.99% Variable, based on creditworthiness | Annual Fee: $0 |
| Cash Advance APR: 24.99% Variable | Balance Transfer Fee: Intro fee of 3% of the amount of each transfer that posts to your account by issuer deadline (see Rates & Fees on issuer page for details). After that, 5% of the amount of each transfer |
| Minimum Interest Charge: $0.50 | Cash Advance Fee: $10 or 5% of amount of advance, whichever is greater |
| | Foreign Transaction Fee: None |
| | Late Payment Fee: None for first late payment, then up to $40 |
| | Returned Payment Fee: Up to $40 |
Authorized-User Policy
Want to add a child, spouse, nanny or someone else you trust to your account? It's free to add an authorized user age 15 and up and easy to apply online by providing just a few basic details. You'll earn points on all your authorized user's purchases exactly as you would on your own. Just be sure that your authorized user is trustworthy, since you're ultimately responsible for all of their purchases. Fortunately, it's easy to track all spending on your account in one place so you can see how they're using the card.
Is This Card Right for You?
If you travel often but find overly complex travel rewards programs too much hassle, you'll appreciate this card's straightforward approach to earning and redeeming rewards. A sizeable sign-up bonus, a 0% introductory APR and minimal fees make the card even more attractive, and if you have excellent credit, you may qualify for a relatively low 11.99% APR. All in all, the Discover it® Miles card is appealing for anyone seeking a travel rewards card that's easy to use.