At Experian, one of our priorities is consumer credit and finance education. This post may contain links and references to one or more of our partners, but we provide an objective view to help you make the best decisions. For more information, see our Editorial Policy.
Since new college students typically have no credit history, student credit cards often have few perks other than helping you establish credit (though that's a big one!). The Deserve® EDU stands out with cash back and other valuable benefits, and no annual fee—but the high variable interest rate can be difficult for students who plan to carry a balance.
Deserve® EDU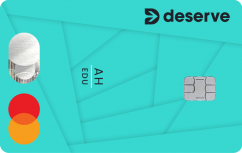 Apply
on Deserve's website
Recommended FICO® Score☉
Fair - Exceptional, New to Credit
20.24% (Variable)
Intro APR: N/A
1%
cash back on All Purchases
Card Details
1% unlimited cash back on all purchases
No annual fee
No foreign transaction fees
Amazon Prime Student on us for one year ($59 value)
Cellphone protection up to $600 when you pay your monthly phone bill with your Deserve Mastercard
Mastercard Platinum benefits
No security deposit or co-signer required
Designed to help college students build good credit
Get personalized tips on how to build a better credit score
| Pros | Cons |
| --- | --- |
| No annual fee | High interest rate |
| Free Amazon Prime Student for a year | Must be enrolled in a U.S. college |
| Unlimited cash back | No balance transfers or cash back |
Customer service contact info for Deserve
1.800.418.2362

PO Box 1286
Menlo Park, CA 94026-1286
Experian Review
It can be difficult to access credit without a credit history, but the Deserve® EDU makes it easy for college students to do. It allows young adults pursuing higher education to build credit without a cosigner or security deposit, while also earning rewards—something that isn't always a feature of student cards. In addition to 1% cash back on all purchases, cardholders get a free Amazon Prime Student membership for a year, among other perks.
The annual percentage rate (APR) is a steep 20.24% (Variable), which is several percentage points above the industry average interest rate, and it's variable, meaning it can change. If you carry a high balance, you'll end up making costly interest payments. So, if you get this card, you should aim to always pay off your balance as soon as possible. Some student credit cards offer a low or 0% intro APR, but this one doesn't, so there's no wiggle room. The card also doesn't allow for balance transfers or cash advances.
But on the positive side, there's no annual fee. There are also no foreign transaction fees, so if you plan to travel or study abroad, you'll save money since you won't have to pay a fee every time you make a purchase in a foreign currency. For students who want a way to build a solid credit history and earn some rewards, this could be a great tool, as long as they keep their balances low to avoid getting caught in a cycle of debt.
Build Credit as a Student With No Credit History
Using a credit card wisely is one of the best ways to build credit, but if you have no credit history, it can be difficult to get approved for a card in the first place. It's a Catch-22. But the Deserve® EDU is specifically designed to help college students build good credit, so the card's issuer is more lenient than is typical and you aren't required to have credit history in order to get approved.
Sometimes people with no credit can only qualify for a secured credit card, which requires a deposit to establish the account and typically has a very low credit limit. The Deserve® EDU is unsecured and doesn't require a security deposit. You also aren't required to have a cosigner, which is sometimes required by other issuers for borrowers without a credit track record. If you're an international student, you don't need a Social Security number to apply.
Get Amazon Prime Student and Additional Cash Back Rewards
This credit card has many compelling benefits and rewards, which is fairly unusual, as student credit cards traditionally lack any bells and whistles. Cardholders earn 1% unlimited cash back on every purchase, which can add up quickly if you use the card for your everyday purchases and then pay it off right away. Plus, all cardholders get a free Amazon Prime Student membership for one year, which normally costs $59. Who doesn't love free shipping and streaming?
The card comes with many other added perks and discounts from third-party services. For example, if you use Lemonade Insurance and pay for three months consecutively using your Deserve® EDU, you'll get a $10 statement credit. Cardholders also get $100 off Feather furniture subscriptions and get a $45 statement credit if they sign up and pay for a Mint Mobile wireless plan with the card.
Features to Protect You
The Deserve® EDU comes with several other compelling card benefits that offer various forms of protection. One big perk is up to $600 in cellphone protection if your phone is stolen or damaged, though you're only eligible for this benefit if you pay your monthly phone bill with the card. You also receive an extended warranty on products you purchase with your card, so if the manufacturer's warranty is short, this can protect your purchases even longer.
As a cardholder, you'll also receive MasterCard Platinum Benefits. This includes an identity theft protection program that can help you if you believe you're a victim of identity theft. You also get access to Mastercard Global Service, which offers 24/7 worldwide assistance if you need to report a lost or stolen card, get an emergency card replacement or obtain an emergency cash advance. These perks can be especially helpful if you're traveling abroad.
Manage Your Account Through the App
With the free Deserve Mobile app, available for iOS and Android, you can control your account anywhere, at any time. In the app, you can view your current balance, how much of your credit limit you have left and pay your bill. You can also use the app to pause your card—a handy feature if you accidentally left your card at a bar and want to ensure no unauthorized purchases until you get your hands back on it. You can also use the app to set up notifications of transactions and add your card to Google Pay.
The Deserve app also has a feature that lets you see the status of your credit score and learn where you're doing well and where you're not (for example, how your payment history and card usage stack up). This tool can help you understand how your behavior impacts your credit and track your score as it (hopefully) improves.
Additional Info
| | |
| --- | --- |
| Purchase APR: 20.24% (Variable) | Grace Period: 23 days |
| Transfer APR: N/A | Annual Fee: $0 |
| Cash Advance APR: N/A | Balance Transfer Fee: N/A |
| Minimum Interest Charge: $1 | Cash Advance Fee: N/A |
| | Foreign Transaction Fee: None |
| | Late Payment Fee: Up to $25 |
| | Returned Payment Fee: Up to $37 |
Authorized-User Policy
The Deserve® EDU does not allow authorized users, so you won't be able to add a sibling or close friend who is looking to build their credit scores this way.
Is This Card Right for You?
It can be hard to qualify for a decent credit card when you don't have any credit history, and many people in that situation get stuck with a secured card that requires a deposit. The Deserve® EDU offers an unsecured credit card to college students who are new to the world of credit, with no deposit or cosigner required. While the interest rate is high, the cash back rewards and other perks, plus the lack of an annual fee and foreign transaction fees, can make this a great card for students who have the diligence to spend within their means and keep their balances low.