At Experian, one of our priorities is consumer credit and finance education. This post may contain links and references to one or more of our partners, but we provide an objective view to help you make the best decisions. For more information, see our Editorial Policy.
The Citi® Double Cash Card - 18 month BT offer from our partner comes with an enticing double whammy. Transferred balances receive a 0% annual percentage rate (APR) promotional rate for 18 months. And, you can earn up to 2% cash back with the card. But be sure to understand some of the fine-print details of the offer before signing up.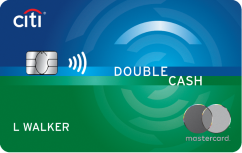 Citi® Double Cash Card - 18 month BT offer
Apply
on Citi Credit Cards's website
Recommended FICO® Score*
Good - Exceptional
Citi® Double Cash Card - 18 month BT offer
13.99% - 23.99% (Variable)
0% for 18 months on Balance Transfers
2%
cash back
Earn 2% on every purchase with unlimited 1% cash back when you buy, plus an additional 1% as you pay for those purchases.
Card Details
Earn 2% on every purchase with unlimited 1% cash back when you buy, plus an additional 1% as you pay for those purchases.
To earn cash back, pay at least the minimum due on time.
Balance Transfer Offer: 0% intro APR on Balance Transfers for 18 months. After that, the variable APR will be 13.99% - 23.99%, based on your creditworthiness.
Balance Transfers do not earn cash back.
If you transfer a balance, interest will be charged on your purchases unless you pay your entire balance (including balance transfers) by the due date each month.
There is a balance transfer fee of either $5 or 3% of the amount of each transfer, whichever is greater.
The standard variable APR for Citi Flex Plan is 13.99% – 23.99% based on your creditworthiness. Citi Flex Plan offers are made available at Citi's discretion.
| Pros | Cons |
| --- | --- |
| No annual fee | No intro bonus |
| Good, flat-rate cash back rewards | No promotional rate on purchases |
| A long promotional rate on balance transfers | Balance transfer fee |
Customer service contact info for Citibank
Citibank Customer Service1-800-374-9700P.O. Box 6500
Sioux Falls, SD 57117
Experian Review
The Citi® Double Cash Card - 18 month BT offer is an excellent option for people who want simplicity and ease of use, but don't want to give up rewards or promotional rates. While some other rewards cards might offer better rewards on certain purchases, this card makes it easy to earn good cash back rewards on every purchase.
How to Use the Citi® Double Cash Card - 18 month BT offer
This card is always worth considering, but is particularly exciting right now because of the lengthy balance transfer offer.
In addition to the card's generous cash back rewards, you can receive an introductory 0% APR on balances transferred to the card within 4 months of opening your account. The introductory 0% APR lasts for 18 months from date of first transfer, giving you a long time to pay off the balance without accruing interest. Any remaining balance will start to accrue interest at the standard purchase APR of 13.99% to 23.99%.
A balance transfer can save you money as you can pay down the balance over time without paying any interest. However, there are a few important points to keep in mind if you're considering using this offer:
You can't transfer balances from other Citi credit cards.
You have to pay a 3% balance transfer fee ($5 minimum) on each transfer.
The balance transfer amount and fees can't exceed your credit limit, which may be as low as $500 depending on your creditworthiness.
Balance transfers can take several weeks to complete. Apply early, so you don't risk a transfer being in limbo when you pass the 4-month point and no longer receive the promotional 0% APR.
Continue making payments on other accounts until you see the balance transfer is complete, or you could accidentally wind up with a late payment.
If you use your card for purchases while paying off a balance transfer, your purchases will accrue interest daily.
While that's a lot of potential fine print, transferring a balance isn't that hard (here's a guide), and it can save you money as long as you spend less on the balance transfer fee than you would on interest.
One of the Best Flat-Rate Rewards Cards
Considering the card also has no annual fee, the Citi® Double Cash Card - 18 month BT offer is one of the best flat-rate rewards cards available. You can earn up to 2% cash back on every purchase—1% cash back when you make a purchase and 1% cash back when you pay your balance. It's a good rewards rate, and encourages cardholders to pay their credit card bill.
You'll earn cash back rewards on all eligible purchases, but that doesn't include balance transfers, cash advances, account fees, lottery tickets, gift cards, money orders and other cash-like transactions. The most notable point here is that you don't earn rewards on transfers, but these are all common exceptions on rewards cards.
There is a caveat to beware of, though. Your account must be current (in other words, you can't have any past-due payments) to earn rewards. And you won't earn rewards during a billing period if you don't make at least a minimum payment during that period. However, once you bring your account current, you may be able to get some of your cash back rewards reinstated by calling Citi.
Multiple Rewards Redemption Options
You can redeem your cash rewards in several ways once you accumulate at least $25 in rewards:
Request a check for $25 or more
Receive a statement credit of $25 or more
Request a transfer to a linked Citi savings or checking account, or to a linked account you've used to pay a Citi credit card bill at least twice in the past
The transfer option may be the best, as it's a quick way to get your rewards. Requesting a statement credit may be even quicker, but you won't receive the 1% cash back you'd otherwise earn from paying that portion of the bill.
You can also convert your cash back rewards into Citi ThankYou points. You can then redeem those points in a variety of ways, or transfer them to the JetBlue frequent flyer program.
Additional Perks and a Few Drawbacks
The balance transfer offer, no annual fee and rewards program are the highlights of the Citi® Double Cash Card - 18 month BT offer. But that's not all it has to offer.
Additionally, you can use the card with a digital wallet, it comes with contactless pay and cardholders get special access to events through Citi EntertainmentSM. You can also download the Citi Mobile® App for iOS or Android and use it to monitor your account, sign up for push notifications and lock or unlock your card.
A few of the potential drawbacks with the Citi® Double Cash Card - 18 month BT offer are the lack of a promotional 0% APR offer on purchases, the balance transfer fee and the foreign transaction fees charged on purchases outside the U.S. And while the first late payment fee is waived, paying late could lead to Citi ending your introductory 0% APR period early. You also don't want to forget about the card because your cash rewards can expire if you don't earn any for 12 months.
Additional Info
| | |
| --- | --- |
| Purchase APR: 13.99% - 23.99% (Variable) | Grace period: 23 days |
| Transfer APR: 13.99% - 23.99% (Variable) | Annual fee: $0 |
| Cash advance APR: 25.24% (Variable) | Balance transfer fee: 3% ($5 minimum) |
| Minimum interest charge: $0.50 | Cash advance fee: 5% ($10 minimum) |
| | Foreign transaction fee: 3% |
| | Late payment fee: $0 for the first, then up to $40 |
| | Returned payment fee: Up to $40 |
Authorized-User Policy
You can add an authorized user to your card for free, and you'll earn 1% cash back from the authorized user's purchase. You'll also be fully responsible for all the transactions in your account, and you'll receive 1% cash back when you make the account payments for transactions that originate with your card and the authorized-user card.
Is This Card Right for You?
If you're looking to transfer balances from non-Citi cards, the Citi® Double Cash Card - 18 month BT offer has a long promotional period and could lead to significant savings. You might be able to find a card without balance transfer fees, but it may also have a shorter promotional period. In the case of this card, the 18 months may more than offset the 3% balance transfer fee ($5 minimum).
While some balance transfer cards aren't good for much else, the Citi® Double Cash Card - 18 month BT offer is appealing because it's a great cash back credit card without an annual fee. It's worth considering even if you don't want to transfer a balance.