At Experian, one of our priorities is consumer credit and finance education. This post may contain links and references to one or more of our partners, but we provide an objective view to help you make the best decisions. For more information, see our Editorial Policy.
In this article:
If you're looking for a credit card that will help you build credit history without charging you an annual fee, the Capital One Platinum Credit Card might be a good option.
If you want to earn rewards at the same time, however, this card will leave you wanting. Here's what to consider before you apply.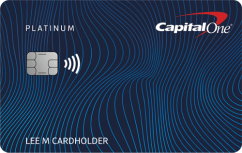 Capital One Platinum Credit Card
Apply
on Capital One's website
Recommended FICO® Score*
Fair
Capital One Platinum Credit Card
Card Details
Pay no annual fee
Be automatically considered for a higher credit line in as little as 6 months
Fraud coverage if your card is lost or stolen
Use online banking to access your account, even from your smartphone, with our mobile app
Check out quickly and securely with a contactless card, without touching a terminal or handing your card to a cashier. Just hover your card over a contactless reader, wait for the confirmation, and you're all set.
Pay by check, online or at a local branch, all with no fee - and pick the monthly due date that works best for you
Get access to your account 24 hours a day, 7 days a week
Help build your credit through responsible use of a card like this
Customer service contact info for Capital One
1 (877) 383-4802
Attn: General Correspondence
P.O. Box 30285
Salt Lake City, UT 84130-0287
| Pros | Cons |
| --- | --- |
| Qualify with limited or average credit | No rewards program |
| Potential higher credit limit with on-time payments | Low minimum credit line |
| No annual fee or foreign transaction fees | High APR |
Experian Review
There's not a lot to the Capital One Platinum Credit Card, but that isn't necessarily a bad thing. If you are working on building your credit, it's a worthy choice. It has no annual fee, and although you may start out with a low credit limit, you have the opportunity to increase it in a relatively short period of time with responsible card use.
It doesn't offer rewards like some other cards for limited or average credit do, however. And if you think you might carry a balance on the card, you'll pay a sky-high interest rate.
Unsecured Card for Building Credit
You might think your only option to build credit is a secured credit card, but that isn't the case. While the Capital One Platinum Credit Card isn't for people who have no credit history or who have serious credit issues, you can qualify if you've defaulted on a loan in the past five years or you've been building credit for three years or less.
Your starting credit limit could be as low as $300, so if you're looking for a card for a large purchase, this is not your best choice. Instead, use it as an everyday card for smaller purchases, then pay off your balance on time each month.
Using your card this way checks off the two most important factors affecting your credit scores: payment history and credit utilization rate, or the portion of available credit you're using. Payment history counts for 35% of your FICO® Score☉ , the most commonly used credit score, while credit utilization counts for 30%.
Making all your payments on time and keeping your balance low will go a long way toward helping your credit scores. What's more, Capital One may automatically consider you for a credit limit increase in as little as six months.
Capital One reports your payment history to all three national credit bureaus (Experian, TransUnion and Equifax), which can help you build credit by adding to your positive payment history. Just keep in mind that credit card issuers typically report your balance each month when your statement closes. If you use a large percentage of your credit limit in a given month—which is easy to do with a low limit—the high credit utilization rate could hurt your credit. Consider paying down the balance multiple times a month to keep your utilization low.
No Rewards, but the Perks Are Decent
Consumers with lower credit scores or a limited credit history typically don't have a wide selection of credit cards to choose from, and there are few options that offer rewards. If that's what you're looking for, consider the Capital One QuicksilverOne Cash Rewards Credit Card, which has the same credit requirements as the Capital One Platinum Credit Card, or the Petal® Visa® Credit Card, which is great if you have no credit history at all.
While the Capital One Platinum Credit Card doesn't offer rewards, it does come with some decent benefits, such as extended warranty coverage, rental car insurance, travel accident insurance, travel assistance and roadside assistance.
You also have the option of choosing a due date for your monthly payment, which can make it easier to manage your card.
Easily Manage Your Account Online
When it comes to managing your account, you can do it online, or you can use the Capital One mobile app, which was ranked No. 4 in the J.D. Power 2019 U.S. Credit Card Mobile App Satisfaction Study.
In addition to checking your balance and making payments, you can redeem your rewards, set up email and text alerts, and lock your card if it gets lost or stolen—then unlock it again if you find it.
Capital One also provides added security when you're shopping online through its virtual assistant, Eno. Add the Eno browser extension, and you'll be able to get a unique virtual credit card number during the checkout process for every online retailer you visit. These numbers are tied to your account, but won't reveal your actual account number. And you can lock and unlock your virtual card numbers at any time.
Eno also monitors your account for duplicate charges and fraud, and can provide special insight, such as when a recurring bill suddenly increases.
Consider the High APR
No annual fee is a great credit card benefit for those with fair credit. However, it's important to note that if you don't pay your balance in full every month, your costs could add up quickly due to the card's high APR of 26.99% (Variable).
To avoid interest charges, make sure to use the card only for what you can pay off each month, and create a reminder or set up automatic payments so you never pay less than the full amount due.
Additional Info
| | |
| --- | --- |
| Purchase APR: 26.99% (Variable) | Grace period: 25 days |
| Transfer APR: 26.99% (Variable) | Annual fee: $0 |
| Cash advance APR: 26.99% (Variable) | Balance transfer fee: 3% of the amount transferred if a promotional APR applies; $0 at the transfer APR |
| Minimum interest charge: None | Cash advance fee: 3% of the advance amount or $10, whichever is greater |
| | Foreign transaction fee: $0 |
| | Late payment fee: Up to $40 |
| | Returned payment fee: None |
Authorized-User Policy
You can add an authorized user to your Capital One Platinum Credit Card at no charge. Once added, your authorized user will receive a card with their name on it, which they can use to make purchases on your credit line. You'll be responsible for paying off the debt they incur.
When you're ready to add an authorized user, you'll need to provide Capital One with the person's name, phone number and date of birth. Read the card issuer's authorized-user policy for more information.
Is This Card Right for You?
The Capital One Platinum Credit Card is a no-fuss credit card that can help you establish a solid credit history—as long as you use it responsibly and pay your bill on time every month. It doesn't have a rewards program like some other credit cards with the same consumers in mind, but it's well-suited for you if your top priority is improving your credit score.
As with any credit card, take some time to compare all your options and consider what you want in a card, then pick the one that's the best fit for you.