At Experian, one of our priorities is consumer credit and finance education. This post may contain links and references to one or more of our partners, but we provide an objective view to help you make the best decisions. For more information, see our Editorial Policy.
If you're just starting out on your credit journey and either don't want to put up a security deposit or can't afford one, consider the AvantCard. You don't need a high credit score to get approved, so if you are new to credit or have a "thin" credit file with fewer than five accounts, the AvantCard could be a good option.
Before you apply, though, consider both the benefits and the drawbacks of what the card offers. Here's what to know.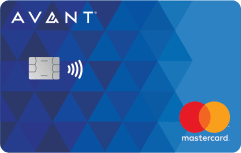 Apply
on Avant's website
Recommended FICO® Score*
Poor - Good, Rebuilding
Card Details
No deposit required
Report to all three major credit bureaus
No hidden fees
We may periodically review your account for credit line increases
Fast and easy application process
Help strengthen your credit history with responsible use
Zero fraud liability for unauthorized charges
Checking your eligibility does not affect your credit score
Avant branded credit products are issued by WebBank
Disclosure: If you are charged interest, the charge will be no less than $1.00. Cash Advance Fee: 3%, Min: $10.
Customer service contact info for Avant
| Pros | Cons |
| --- | --- |
| Fast and easy application process | Charges an annual fee |
| No deposit required | High annual percentage rate (APR) |
| No fraud liability for unauthorized charges | No rewards |
Experian Review
If you have a low credit score or a limited credit history, getting approved for a traditional credit card can be a challenge. In many cases, you might be told that the only option is a secured credit card.
But secured cards require a deposit—typically equal to the card's credit limit—to get approved, and that doesn't work for everyone. Even if you can afford one, it's not ideal to tie up a few hundred dollars or more for months or even years while you're building your credit.
The AvantCard doesn't require a high credit score for approval, and it's unsecured, which means there's no deposit. You'll get a credit limit, and you can spend up to that limit, making at least minimum required payments every month.
While the card may be a solid alternative to a secured card, it does charge a $59 annual fee. Also, the ongoing APR is high, so you'll want to pay off your entire balance every month to avoid interest charges that could cost you a bundle.
A Simple Unsecured Card for Building Credit
If you have bad credit, fair credit or a relatively new credit history, the AvantCard could be a good fit. Because it doesn't require a security deposit for approval, you can keep your money where it belongs: in your bank account.
The AvantCard reports your account activity to all three credit reporting agencies (Experian, TransUnion and Equifax). As long as you use the card responsibly and pay your bills on time every month, it can help you build a solid credit history.
That said, you'll want to make sure you don't run up too high of a balance. Your credit utilization rate, which is the percentage of the credit limit you're using at any given time, is an influential factor in your FICO® Score☉ . Credit experts recommend keeping your utilization rate below 30%—so if you have a $250 credit limit, that's a balance of $75—but the lower, the better.
You Won't Know the Terms Until You Get Approved
Certain terms won't be made available to you until you get approved and receive your card in the mail. That said, the card's $59 annual fee isn't likely to break the bank—but if you can manage to get a card with no annual fee, all the better.
In contrast, some unsecured credit cards for limited or bad credit charge annual fees as high as $99, and some even tack on a processing fee when you get approved and a monthly maintenance charge.
A Card to Take With You When Traveling
When you're traveling abroad, a lot of credit cards charge a foreign transaction fee, which typically amounts to 3% of each international purchase you make with most cards. That may not sound like a lot, but it can add up, especially on longer trips.
With the AvantCard, though, there is no foreign transaction fee, making it a solid option if you're planning a trip abroad. Also, the card runs transactions on the Mastercard payment network, which has broad acceptance internationally.
Consider the Limitations
Depending on your situation, the AvantCard can be an excellent way to build or rebuild your credit history. Before you apply, however, it's important to consider the drawbacks as well as the benefits.
State restrictions: Avant doesn't work in six states: Hawaii, Iowa, Massachusetts, Vermont, West Virginia and Wisconsin. So if you live in one of those states, you can't apply.
No balance transfer option: The AvantCard doesn't allow you to transfer a balance from another credit card. Considering its high APR, this might actually be a good thing, but it may be disappointing if you're hoping to consolidate all of your credit card debt into one payment.
No rewards program: Cards designed for building credit don't typically offer rewards, and the AvantCard is no exception. But that doesn't mean there aren't alternatives if you want to build credit and rack up rewards.
No authorized users: Most credit cards allow you to add an authorized user, such as a spouse, partner or child, to your account. Authorized users not only have the ability to make purchases with the account's credit line but also benefit from positive account activity on their credit reports. With the AvantCard, however, you can't add authorized users at all.
Doesn't support mobile payments: You won't be able to add the AvantCard to mobile wallets like Apple Pay, Google Pay or Samsung Pay. If you primarily use mobile payments, shop around to see if you can find a card that provides that convenience and security.
Additional Info
| | |
| --- | --- |
| Purchase APR: 29.49% Variable | Grace period: 24 days |
| Transfer APR: N/A | Annual fee: $59 |
| Cash advance APR: 29.49% | Balance transfer fee: N/A |
| Minimum interest charge: $1 | Cash advance fee: 3% of the advance amount or $10, whichever is greater |
| | Foreign transaction fee: None |
| | Late payment fee: Up to $39 |
| | Returned payment fee: N/A |
Is This Card Right for You?
The AvantCard has an advantage over secured credit cards because it doesn't require a security deposit. And while it does charge an annual fee, it's low compared with some of its competitors.
But depending on your situation, there may be other credit cards you could qualify for that don't charge an annual fee, and some of them even offer rewards. Take some time to compare the AvantCard with other top credit cards to make sure you get the right one for you.