Mobile wallets are growing and while they may never hit the size of George Costanza's wallet, more and more people are using them as a top payment choice.
Mobile wallets let you carry your payments digitally via your bank account or a credit card so you can pay someone from your smartphone (both a company or a friend).
In 2017, 64% of Americans made a mobile payment, according to Statista. By 2020, it's expected that mobile payments will represent $503 billion in transactions according to another report by BI Intelligence.
Google recently announced their new "unified" payments service Google Pay. The new mobile wallet combines Google Wallet and Android Pay into one app. The new app streamlines both offerings, and rebrands Android Pay to Google Pay and Google Wallet to Google Pay Send.
Google Pay features two main areas of their mobile payment app:
Home: this area shows all your recent payment activity. You can also find nearby stores.
Cards: this area is where you can keep all your individual credit cards, debit cards, rewards cards and gift cards in one place.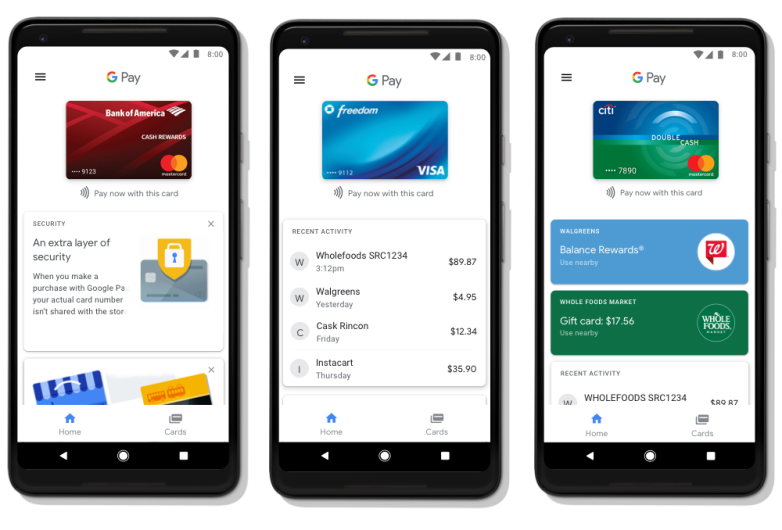 Google also plans to incorporate Google Pay across its other products such as Chrome and Assistant and integrate its peer-to-peer payment feature from Google Wallet directly into the Google Pay app. In addition, Google Pay is rolling out the ability to use the app for transit fares in certain cities starting with Kiev, London, and Portland, Oregon.
Is Cash Dead?
No...well sort of...maybe? Amazon has launched cashierless Amazon Go stores and plans to launch more this year while. Apple CEO Tim Cook said if he had his way, he would never use cash again and in Sweden, it's common to see "No cash accepted" signs hanging in stores nowadays.
Cash may not necessarily be the preferred method of payment of choice with all the different options available. There are a bunch of new and popular payment apps available including Venmo, the Cash App, Apple Pay, Samsung Pay and Zelle (a payment platform that works through the app of many major banks).
Read more here about personal finance apps you can use to stay on track with your spending and budget.
---
Want to instantly increase your credit score? Experian Boost™ helps by giving you credit for the utility and mobile phone bills you're already paying. Until now, those payments did not positively impact your score.
This service is completely free and can boost your credit scores fast by using your own positive payment history. It can also help those with poor or limited credit situations. Other services such as credit repair may cost you up to thousands and only help remove inaccuracies from your credit report.