American shoppers are spending more on holiday gifts this year than the previous year—and men continue to outspend women, according to a new survey by Experian.
In a poll of 1,000 adults conducted in late November, consumers were asked to estimate their holiday gift spending. Respondents planned to spend an average of $740 on holiday gifts this season, up slightly from $734 in 2016.
Men reported that they would spend, on average, $858. That's more than $200 over the average amount for women, which was $639. (The gap narrowed slightly from 2016 when men said they planned to spend $898 compared with women's $593.)
Not surprisingly, people at higher income levels planned to drop more cash: Those making more than $100,000 a year said they would spend an average of $1,649, while those earning between $50,000 and $75,000 estimated their gift budget at $639.
Consumers are planning to spend an average of $740 on gifts this season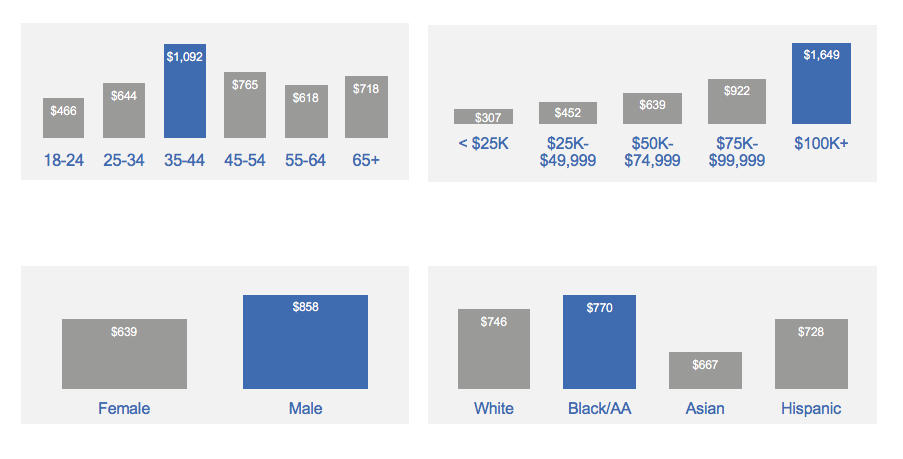 Adults aged 35 to 44 were really getting into the holiday spirit; they planned to shell out $1,092, on average. All other age groups averaged significantly less:
Ages 18-24: $466
Ages 25-34: $644
Ages 45-54: $765
Ages 55-64: $618
Ages 65 and above: $718
To pay for their purchases, more than half of all consumers said they would use cash, while 47% expected to use a debit card. But 44% still rely on a major credit card to pay for holiday gifts. (Credit card debt hit an all-time high in the third quarter of 2017—if consumers continue to spend this way, the fourth quarter could be even higher.)
These figures indicate how much consumers planned to spend. In the same survey, 58% of consumers also said they end up spending too much money during the holiday season. And one out of three consumers said they have not created a budget for holiday gift shopping.
How To Stay Within Your Holiday Spending Budget
To avoid overspending, consumer credit expert Gerri Detweiler suggests limiting your holiday purchases to just one or two credit cards. That way, you can keep track of all your holiday expenses in one place. As you see the total build up, you'll be less likely to go over your set budget.
And to keep spending down, check out your airline miles and reward points. You might have small balances that won't be used for buying a flight or hotel room, but they could be used to purchase small gifts. In fact, 19% of consumers surveyed said they planned to pay for holiday gifts with their reward points.
Finally, shop with a credit card that offers price protection, like the Discover or Citi DoubleCash cards. If the price on an item drops soon after you bought it, you can file a claim to have the difference refunded to you.
Alternatively, consider an app like Earny, which automatically scans for price drops on all your purchases and does the legwork to get the differences refunded to you (minus a fee of 25% of whatever the app recovers on your behalf). The downside: You do have to give up some privacy; Earny has access to your email inbox.
---
Editorial Disclaimer
: Opinions expressed here are author's alone, not those of any bank, credit card issuer, or other company, and have not been reviewed, approved or otherwise endorsed by any of these entities. All information, including rates and fees, are accurate as of the date of publication.