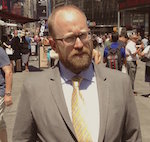 Michael Schreiber
Michael Schreiber is an Emmy and duPont award-winning reporter, editor and producer. He recently founded Amalgamated Unlimited, a company devoted to helping organizations big and small develop content and editorial strategies that make sense and drive results. Previously, he was Editor in Chief and Chief Content Officer at Credit.com and prior to that worked at The New York Times, Frontline, ABC News, TheStreet.com, HBO and others. He was an adjunct professor at The Graduate School of Journalism at Columbia University, which he also attended and has a BA in Psychology from Skidmore College.
Articles by Michael Schreiber
Good credit begins with knowing where your credit is today. Get started with your free Experian Credit Report, updated every 30 days on sign in. No credit card required.
Get Started for Free