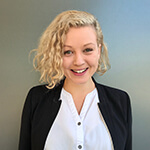 Lauren Winder
Lauren Winder is a Sr. Copywriter in the CRM division of Experian Consumer Services. With a strong background in editorial and deep passion for consumer education, Lauren has spent the last few years penning ads, petting cats and plotting where next to travel. She holds a BA in English Literature and a minor in Creative Writing from the University of California, Berkeley.
Articles by Lauren Winder
Good credit begins with knowing where your credit is today. Get started with your free Experian Credit Report, updated every 30 days on sign in. No credit card required.
Get Started for Free