It's no secret that student loan debt in the United States has reached epic proportions. Second, only to housing debt, Americans owe a whopping $1.4 trillion in student loans. That's 13.4% of all consumers (and many of them millennials), whose average total student loan debt balance stands at $34,144. And a new Brookings Institution report concludes that default rates have continued to climb.
But beyond the total amount students owe, it's also important to remember that many of us have more than one student loan, each with different terms and interest rates. So where do Americans with the most student loans live? Experian's latest State of Credit identifies the top metropolitan areas where residents have the highest number of student loans.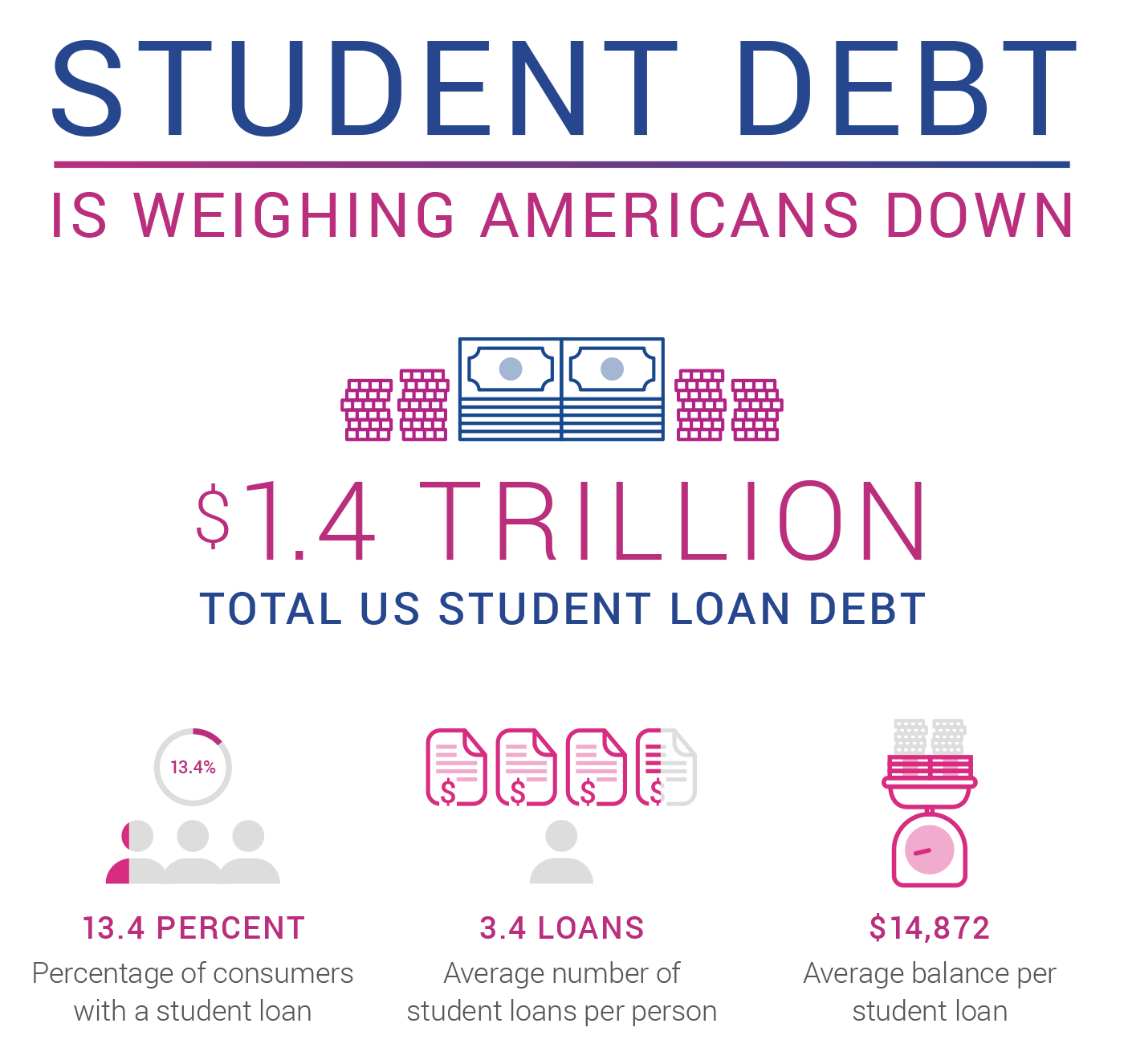 The place on top is Twin Falls, Idaho, where residents have opened, on average, 2.12 student loans. It's followed by Birmingham, Alabama, with 2.08 loans. Evansville, Indiana; Jackson, Mississippi; and Youngstown, Ohio are tied for third place with 2.06 loans each.
Five Metro Areas With the Most Student Loans
Twin Falls, ID: 2.12 loans
Birmingham, AL: 2.08 loans
Evansville, IN: 2.06 loans
Jackson, MS: 2.06 loans
Youngstown, OH: 2.06 loans
At least Twin Falls residents can take advantage of the city's cost of living, which is slightly lower than the national average—thanks to affordable housing prices. Their total debt per resident averages $26,362.
And the city with the least amount of student loans per resident? The sin city itself: Las Vegas averages 1.33 student loans per person. (Residents have a relatively low overall debt balance, too: $22,918, about two thousand dollars less than the national average of $24,706.)
Three states dominated the fewest student loans category: Nevada, Texas, and Oregon.
Five Metro Areas with the Fewest Student Loans
Las Vegas, NV: 1.33 loans
San Angelo, TX: 1.58 loans
Bend, OR: 1.61 loans
Reno, NV: 1.64 loans
Eugene, OR: 1.68 loans & San Antonio, TX: 1.68 loans
For more information, check out the State of Student Loan Debt 2017 infographic.
What Should I Do If I Have a lot of Student Loan Debt?
Outstanding student loan debt is the one debt that will is rarely forgiven—even after you die. But there are ways to manage it. You might consider consolidating your student loans, which means you roll multiple loans into one to make it easier to pay off, sometimes getting an interest rate reduction in the process.