It's a new year, which means it's time focus on self-improvement. For many Americans, that includes improving their bottom lines. This year, the top financial resolution is to save more money, according to a new survey by Experian.
In a poll of 1,000 adults conducted in late November, consumers were asked what new year's finance and credit resolutions they planned to make for 2018. Nearly half of all respondents—48%—said they wanted to save more in the new year.
About a third of respondents said they wanted to pay off a credit card entirely, while 26% planned to create a personal budget. And nearly one in five Americans said they wanted to check their credit scores more often.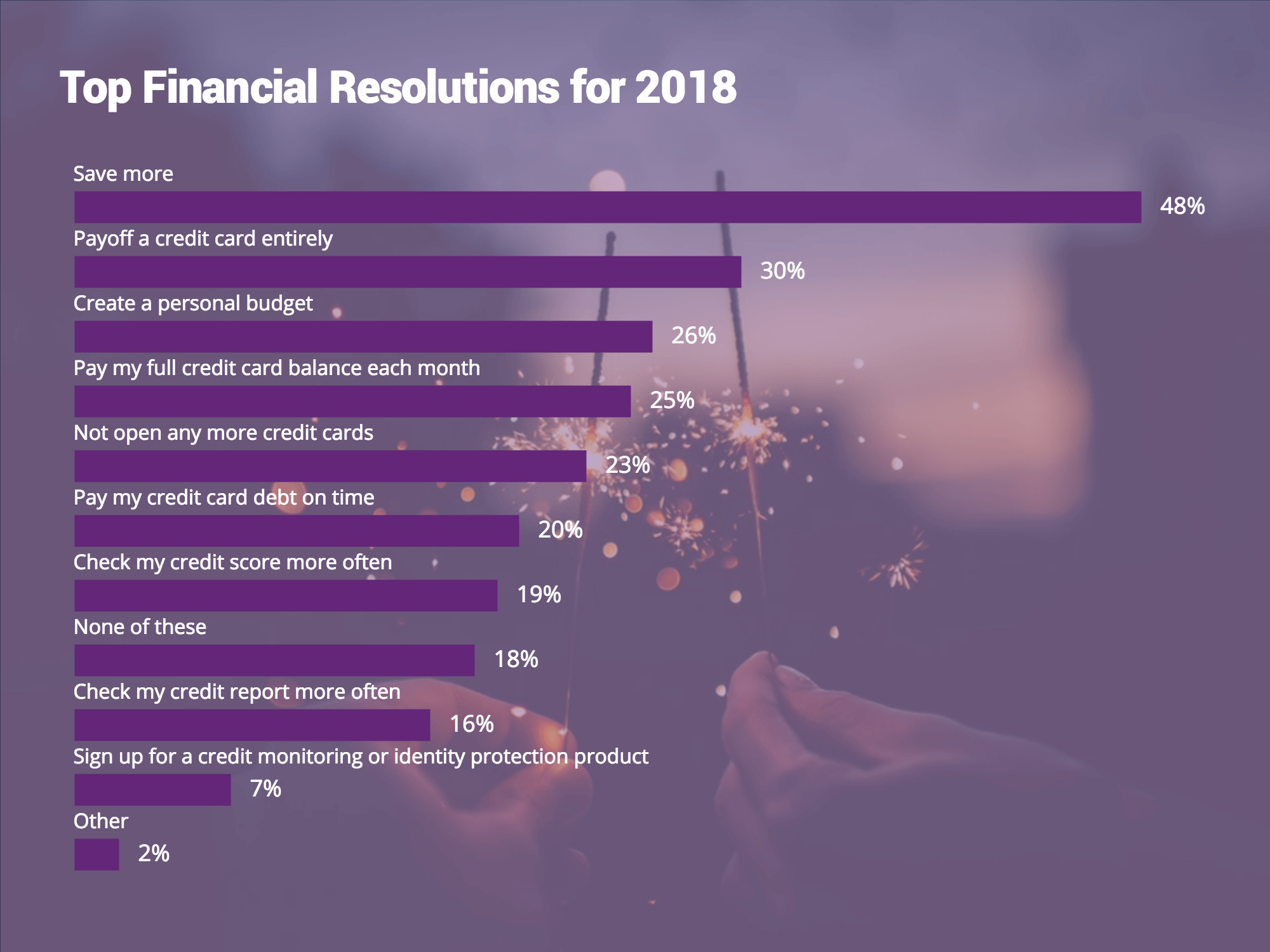 These are all smart resolutions to boost your financial health. But research from the University of Scranton suggests that just 8% of people actually keep their resolutions each year. There are a number of reasons for the lack of follow-through, like not setting realistic or specific goals.
So, how can you better achieve your financial goals? The key lies in understanding the stumbling blocks that may cause you to fail, according to behavioral finance expert Dan Ariely.
Ariely offers these three tips for meeting your financial goals in the new year:
1. Automate Your Savings
Saving more was the number one goal for many Americans, and it's a good one, given that the average household savings rate is just 3.1%. But forcing yourself to do it each month can be hard. That's why behavioral economists suggest automating your savings as much as possible, so you don't even have a chance to see the money you plan to save in your checking account.
If your employer allows it, direct a percentage of your savings to be deposited into a separate savings account from your paycheck. If that's not possible, set up an automatic bill pay that transfers money into your savings account on the same day that your paycheck hits your checking account.
2. Focus on a Weekly Budget
Instead of trying to budget for the month, Ariely suggests taking things week by week, which is a short enough time period for you to actually make easy trade-offs. "You can think about the opportunity cost," says Ariely. "So you might say, 'If I eat a big dinner out tonight, I will have to save for the next few days.'"
He also suggests putting that weekly budget on a prepaid debit card that alerts you each morning about how much money you have left and to pay for everything with that card. Once the money is gone, you have to wait until the week resets to get more.
3. Shift Some of Your Spending to Cash
Credit cards are wonderful tools, but sometimes they make spending a little too easy. Ariely explains that when you pay with a credit card, you take away the "pain of payment"—that small sting you feel when you part with physical cash.
To reduce your credit card debt, consider paying for some items with greenbacks. You'll be more likely to think twice about that spending.