Newsletters from Decision Analytics
Decision Analytics provides regular e-newsletters to our clients and subscribers on a variety of credit relevant topics. See the latest editions, view archives and join our mailing list.
Credit Cornerstone
Weekly email highlighting credit trends and data intelligence. Topics range from credit scoring, mortgage and automotive lending to various additional credit topics
Fraud Advisor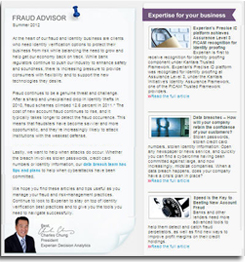 Quarterly newsletter dedicated to the fraud industry. Topics range from current fraud trends to recent regulations and recommendations for protection against fraudsters
Experian News
Quarterly newsletter that delivers topics ranging from recent industry trends and regulations, to exclusive offers and updates. Content developed based on extensive client feedback.
Join our mailing list
Please complete this form to subscribe to selected newsletters