Romance on a Budget: Fun & Frugal Valentine's Day Ideas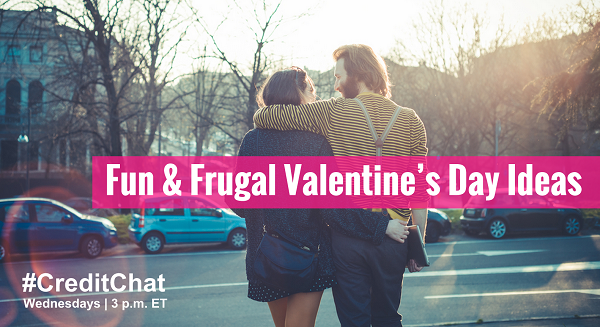 Join our #CreditChat on Twitter and YouTube every Wednesday at 3 p.m. ET. This week, we talked with Ashley Jacobs @Wisebread about fun and frugal ways to celebrate Valentine's Day with your partner.
Questions We Discussed:
Q1: Do you have a favorite Valentine's Day memory?
Q2: What are some common ways to celebrate Valentine's Day?
Q3: Where are good places to buy flowers for a good price?
Q4: What are some romantic/fun gifts that don't cost a lot of money?
Q5: Where's a romantic place to eat (that doesn't cost much money)?
Q6: What are some fun/frugal ways to spend the evening?
Q7: What are some topics to discuss on Valentine's Day? Would you talk finances?
Q8: For those that don't mind spending extra money, what do you suggest he/she buys?
Q9: Any final tips for having a fun and frugal Valentine's Day?
Check out highlights from the tweetchat: