How to Start Investing (And Mistakes to Avoid)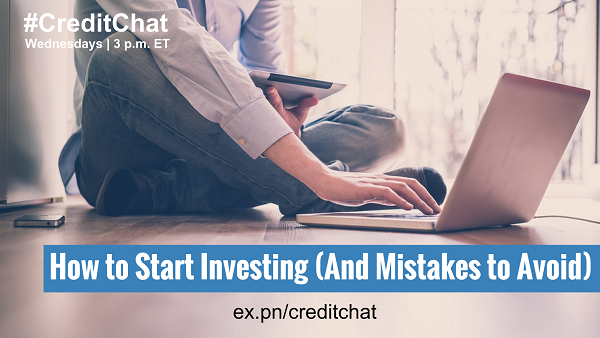 Join our #CreditChat on Twitter and YouTube every Wednesday at 3 p.m. ET. This week, we're going to talk about how to get started with investing (and mistakes to avoid).
Topic: How to Start Investing (And Mistakes to Avoid)

When: Wednesday, February 4 at 3 p.m. ET.
Easy ways to chat with us on Twitter: Twubs or Tchat
Join us on Twitter by using the #CreditChat hashtag – and tune in to the discussion on YouTube. The video panel will include: Christine Benz – Director of Personal Finance at Morningstar,  Rod Griffin – Director of Public Education at Experian,  Mike Delgado – Social Media Community Manager at Experian, and others.
We will embed the live streaming video on this page during the chat.If you're interested in being a guest on Twitter or YouTube for an upcoming chat, please tweet @mikedelgado.
Questions we'll discuss:
Q1: Why is investing important?
Q2: How can we get educated on different investing strategies?
Q3: What are some of the best/easiest ways to start investing for the future?
Q4: What are mistakes to avoid when investing?
Q5: What are other ways to invest (aside from retirement accounts)?
Q6: What are pros/cons of working with a financial advisor to help with investing?
Q7: What are ways to manage our emotions when investing?
Q8: What are some tools or online resources to help us with investing?
Q9: Any final tips for those ready to start investing?
Check Out Past Chats: