How to Create Financial Goals You'll Achieve in 2015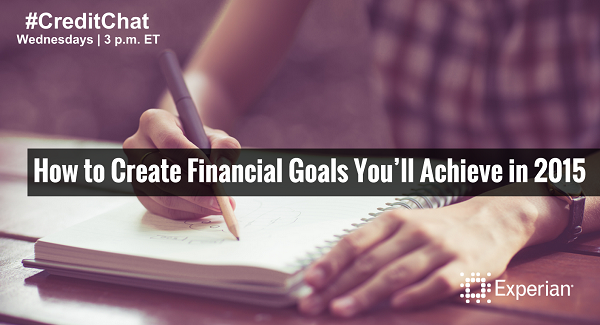 Join our #CreditChat on Twitter and YouTube every Wednesday at 3 p.m. ET.
Since we'll soon celebrate New Year's Day, we thought it would be appropriate to talk about about new resolutions and goal setting. Join us as we chat with Barbara Friedberg and Tonya Rapley from MyFabFinance.com about ways to create smart financial goals.
Topic: How to Create Financial Goals You'll Achieve in 2015

When: Wednesday, December 31 at 3 p.m. ET.
Easy ways to chat with us on Twitter: Twubs or Tchat
Join us on Twitter by using the #CreditChat hashtag – and tune in to the discussion on YouTube. The video panel will include: Tonya Rapley, Barbara Friedberg,  Rod Griffin – Director of Public Education at Experian, and  Mike Delgado – Social Media Community Manager at Experian, and others.
We will embed the live streaming video on this page during the chat. If you'd like to join the video chat, please let us know by emailing Mike Delgado. We would love to meet you.
Questions we'll discuss:
Q1: Why is it important to set financial goals?
Q2: What types of financial goals should a person think about creating?
Q3: What are easy mistakes to make when creating financial goals?
Q4: What are the steps involved in creating a financial goal?
Q5: What are ways to stay motivated and on track to achieve your financial goals?
Q6: What do you think about automating your finances? What can be automated?
Q7:  What happens if your goal is not achievable? How/when do you adjust?
Q8: How should couples approach financial goals? How often should they discuss?
Q9: Do you have any favorite tools to help with financial goals or money management?
Q10: What are some final tips to help others with their financial goals?
Recent Chats on YouTube & Twitter