What is a Data Scientist? #DataTalk
Join our #DataTalk on Twitter on Thursdays at 5 p.m. ET as we talk about data science, analytics, and big data. Our big data tweet chats are hosted by @ExperianDataLab.
In this chat, we tweeted with Dr. Michael Wu, the Chief Scientist at Lithium, where he applies data-driven methodologies to investigate the complex dynamics of the social web. Michael works with big data and has developed many predictive and prescriptive social analytics with actionable insights. His R&D won him the recognition as a 2010 Influential Leader by CRM Magazine.
Questions We Discussed:
Q1: What type of work does a data scientist do?
Q2: What are some attributes of a good data scientist? Educational background?
Q3: What kinds of companies have (or need) data scientists?
Q4: What types of teams do data scientists work with? How many hats do you wear?
Q5: What are some big challenges data scientists face in their role?
Q6: Is there an art and science to working with big data? If so, how?
Q7: How can data scientists make a big impact in their business?
Q8: What trends are you seeing in big data? Will data scientist roles evolve?
Q9: Why should companies invest more in data science?
Q10: Any final tips for those who want to work in data science?
Featured Tweets:
Wherever there's an abundance of data, that's where you need to go. – Dr. Wu [Retweet]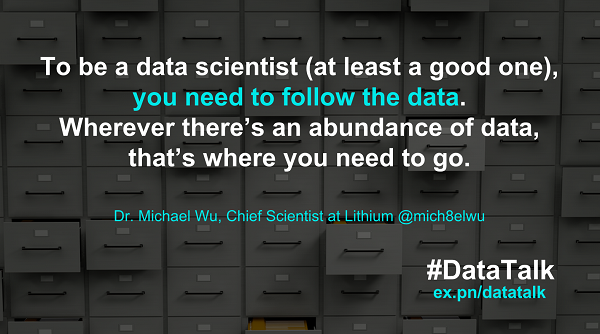 If you want to have a big data strategy, first identify some problems so the data you collect will have immediate value. – Dr. Wu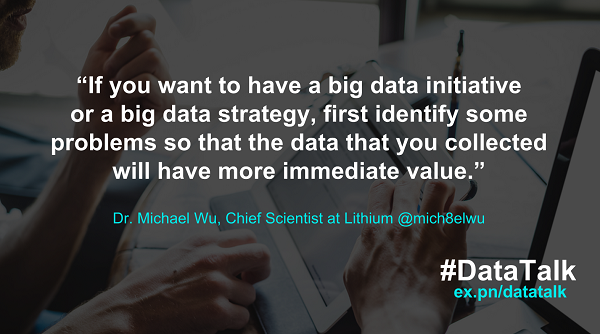 Highlights from the tweetchat: