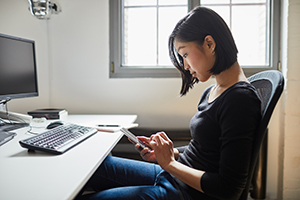 Identity has always played an essential role in understanding who your customers are and ensuring a positive user experience. However, it has and continues to evolve over time. Identifying customers used to be as simple as looking into a brick and motor store to see which demographics were buying what. As society becomes increasingly reliant on both digital devices and channels, hundreds of digital touchpoints come into play. Every click, purchase, and search is another component of an identity.
Further complicating things for marketers is the fact that digital footprints are just one part of the equation. Despite the increased digital activities of consumers, offline ads and marketing techniques still continue to factor into a consumer's overall purchase behavior. The combination of hundreds of digital and offline touchpoints, disjointed technology and data silos make it difficult for brands and agencies to obtain a true single view of the customer.
That's why Experian has launched an innovative new solution that combines vetted, high-quality data and artificial intelligence to help marketers connect Mobile Ad IDs (MAIDs) with digital and offline identity attributes to get a more comprehensive understanding of their target audiences. Using machine-learning algorithms and evaluating billions of advanced identity signals and data elements, including MAIDs, the solution allows brand marketers to put more effective analytics, audience segmentation and activation, and measurement capabilities into action. Developed in collaboration with Experian DataLabs and powered by Experian's vast data assets and identity platform, the solution will be available via Experian's MarketingConnectSM, an identity resolution platform designed to help brands, agencies and marketing technology vendors connect disparate data sources, effectively bridging the gaps in identity resolution.
Experian is making this possible for marketers by intelligently connecting all of the necessary data points to reach customers with timely and relevant campaigns, all while keeping their data protected. By ingesting, organizing, corroborating, resolving, and analyzing a broad range of data, our new solution provides marketers with the ability to identify and reach customers at a higher rate than previously possible.
To read our full press release visit https://www.experianplc.com/media/news/2019/experians-efforts-to-help-marketers-more-accurately-identify-customers/.