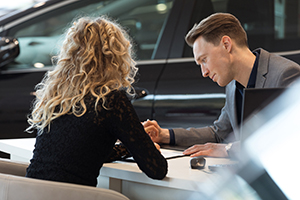 As auto manufacturers battle a widening gap between accelerating innovation and financial health, they face additional challenges around changing consumer shopping habits.
According to research by Cox Automotive, car buyers spend over 14 hours researching car purchases, and more than half of automotive internet shoppers use a mobile device in their quest for auto information.  As auto shopper attention shifts to digital devices, OEMs and agencies are spending less on traditional TV and more on cross-platform channels, ushering in new challenges around reaching granular audiences with relevant messages.
Given the challenges facing the industry today, auto advertisers need a truly custom solution to effectively target and reach their customers with messaging that resonates.
Scale is necessary to execute an effective multi-channel campaign
For most consumers, the decision to purchase a car is often preceded by extensive online research. In fact, 86% of consumers conduct online research before stepping foot in a dealership (source). And in today's digital age, consumers are more connected than ever, as multiple channels, such as OTT and mobile, weigh heavily in their path to purchase. While these mediums create new opportunities for brands to connect with consumers in creative ways, scaling your audience targeting strategy across these channels can quickly become a complicated process. Luckily, most activation platforms are establishing true cross-device marketplaces, where users are linked to device/household IDs. However, due to natural drop-off in the cookie to ID matching process, maintaining volumes can be a challenge. Working with data providers who have the inventory necessary to scale across OTT, mobile, and any other channel, and also adjust channel metrics, is imperative to any multi-channel campaign success.
Leverage first-party data enrichment and third-party segment analysis to reach new customers
First-party data is great for uncovering granular preferences from existing customers, however, marketers are limited to only the attributes extracted from their owned and operated sites, which fail to capture the full scope of a consumer profile. Savvy marketers enrich their first-party CRM data with third party attributes, such as socioeconomic variables to determine life stage and household income. Additionally, the practice of conducting overlap reports is a great way to find new audiences. For example, if Mercedes were looking to find new customers to reach, we can take the Experian audience segment "In Market – to buy Mercedes Benz- Luxury Sedan" which represents potential customers with a likelihood to be in the market to buy a luxury car in the next 180 days, and run an overlap analysis to understand how that segment is similar to other Eyeota Audience Marketplace segments. This is done by comparing cookie identifiers that overlap between the Experian segment and other segments in the Eyeota audience marketplace. Overlap analysis helps advertisers understand how to expand reach to adjacent segments or new geographies. In this example, we found that advertisers reaching luxury sedan owners should also consider reaching pet owners and charitable donors, both of which have high overlaps with luxury sedan owners.
Thanks to strong partners like Experian we continue to help agencies and brands build audience driven strategies to help efficiently drive KPI's against their given objectives.  Whether you're looking to enrich you first party audiences or prospect new buys Experian and Eyeota can help bring your objective to life.