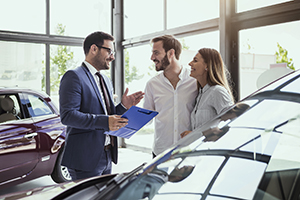 Car shoppers are faced with a vast and exciting number of options in today's automotive marketplace. Remember when you shopped around for your last car and had to decide on the type of vehicle – SUV, car, minivan, pickup; the engine type – electric, hybrid, gasoline or diesel; the actual make and model; and finally, a myriad of features and options. And how about fitting it into your budget? Options like new, CPO or pre-owned are all solid considerations.  Even payment choices such as cash, financing or leasing impact your final decision. So many brands, retailers and complex purchase decisions to consider! In a crowded marketplace, it's more important than ever for marketers to connect the dots of each consumer's unique purchase journey, and to know what they want, in order to deliver the most relevant experiences possible.
In today's omni-channel world, there is a breadth of consumer data available to more effectively identify and communicate with current and potential customers. Imagine you're an automotive marketer trying to influence purchase behavior to achieve aggressive sales goals. Then imagine launching a major automotive campaign without having clear direction on whom to target, how to reach them or which markets are most effective to tap into. This happens more often than you think because automotive dealers, like many businesses, struggle to gather and fully understand their data to make more informed and effective marketing decisions. In fact, recent Experian research shows that 83 percent of marketing and IT leaders have challenges distributing and using their own data. This is a critical problem to solve because data is at the core of identity resolution, a key enabler of enhanced return on investment.
Understanding identity is the foundation of any great campaign, and the same holds true for the automotive industry. Studies have shown that consumers express frustration when an experience feels impersonal, even when brands get names wrong in customer communication. Identity resolution impacts those customer experiences, not only by maximizing the effectiveness of ad dollars, but also by helping customers in an omni-channel space by making it easier for them to purchase the vehicle that is right for them. Data can help marketers figure out matters like where large growing families are living, what channels they're using to shop, or who might be more inclined to buy a small car versus a bigger vehicle.
Investing in an effective identity resolution solution might just be the most important thing you can do as an automotive marketer. To make the most of your investment, consider how you're currently handling your customer data and then set your priorities. Don't hesitate to make identity resolution an organizational effort in order to prepare, automate, and distribute and act on the assets needed. Finally, remember to find ways to keep your audience engaged. At the end of the day, you'll be delivering the right messages to the right people at the best time, and consumers will be more appreciative, too.