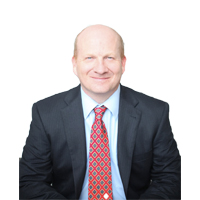 As businesses, we are driven to earn consumer trust and affinity, and continuously strive to give those consumers a reason to interact with us and come back. But, technology has undoubtedly flipped that process on its head and changed the customer journey. From the moment a customer is introduced to a brand via a mobile ad, to the time they re-visit the brand online or in store, there have likely been hundreds of touchpoints between the two. If brands want to build that trust and affinity, it's imperative to connect those touchpoints together to better understand their customers and have more relevant conversations with them.
Data is key to that process.
Kevin Dean, President of Marketing Services at Experian, recently participated in an interview with Nick Westergaard of On Brand podcast on the importance of data and identity when it comes to building customer loyalty. On the podcast, he discusses the role of identity resolution in building brand affinity, and how relevancy is critical in developing lifelong relationships with consumers.
Dean also discusses the biggest challenges that brand builders face today, including data management, achieving a single customer view, being able to analyze the large amounts of data that businesses are faced with today, and ultimately using this information to correctly identify the opportunities at hand when better connecting with consumers.
To listen to the On Brand podcast episode, Why Data is Critical to Building Customer Loyalty, click here.