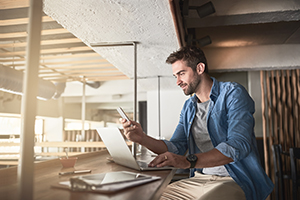 As marketers, we all understand the importance of having a single customer view to form the identity layer – after all, it is likely among the most valuable assets we have, and at the core of every marketing activity. The entire advertising and marketing ecosystem relies on our ability to recognize customers and their behaviors across multiple touch points. It's how we generate and develop more meaningful interactions with them and tell a consistent story across devices. And as customer expectations continue to evolve, it will become more important than ever for brands to identify who their customers are to make better marketing decisions and create a seamless, highly-personalized, and enjoyable experience for them.
But for most brands, the goal of more accurate customer identities isn't a reality. In fact, more than 95 percent of today's brands do not have access to the elusive single customer view.
To help address these challenges, Experian recently launched MarketingConnectSM, its next step in the evolution of helping marketers connect the complex dots of identity resolution. Much of the problem can be attributed to the lack of clarity around methodology and identity standards. And while most brand marketers may look to the massive amounts of data to solve the identity issue, data alone is no longer the answer. But quality data, coupled with technology, can help brands get closer to the precise customer identity and unlock the true power of data to help make better marketing decisions.
MarketingConnect enables marketers to connect the hundreds of digital and offline touchpoints to the known and verifiable identity of a consumer from a single platform, and ultimately allows them to better understand who consumers are and how they interact with a specific brand. More importantly, brands will feel confident there's a real person behind the identity, and can communicate messages that resonate with them.
The role customer identity plays within the advertising and marketing ecosystem is undisputed. But as an industry, how do we help brands grasp the customer view they desire, and ultimately require? Part of the answer is quality data and technology, which turns our insights into action, and the other is clarity and consistency. Increasingly, customers expect and deserve a positive and consistent experience across all channels. It's no longer a matter of meeting these expectations, but surpassing them, and taking campaigns to new heights.
Last year, Experian joined some of the biggest brands in marketing and media to form the Data & Marketing Association's (DMA) Council for Data Integrity to help solve our industry's most pressing identity and attribution challenges, while also remaining transparent in our data practices. Our new MarketingConnect identity resolution solution set helps organizations solve for identity, which is at the core of every marketing activity.
A single customer view is more important than ever. Learn more about why identity matters to marketers…and consumers, here.
Also, download Winterberry Group's new identity resolution white paper, "Know Your Audience: The Evolution of Identity in a Consumer-Centric Marketplace."