Identify, know and engage your customers for a cross-channel marketing win
Consumers have come to expect real-time relevant interactions with brands. The response on the supply side: The convergence of ad tech and marketing tech. The response on the demand side: Brand marketers eagerly working with business partners to create integrated cross-channel marketing experiences.
This means that customer data and actions across channels and devices should affect the email, mobile, display, TV, web or social message received or viewed by the customer. To effectively execute on this real-time experience requires marketers, much like basketball players on a court, to effortlessly link customer data to understand their customers and employ the right tools to seamlessly deliver on a brand promise. Here is the 3-point-play needed to endear your customers to your brand and become a cross-channel marketing all-star:
Play #1: Identify customers
Data quality and linkage
Data quality is at the foundation of cross-channel marketing programs, so putting sound data management processes in place across your organization helps ensure that you can deliver a more personalized experience.
According to Experian Data Quality's 2016 Data Management Benchmark Report, 97 percent of organizations are looking to achieve a complete view of the customer. In the upcoming 2016 Digital Marketer Report, 81 percent of marketers reported having challenges achieving a single customer view. A marketer's ability to connect disparate data and create a comprehensive view of clients and prospects is vital to creating seamless experiences and telling a consistent cross-channel brand story.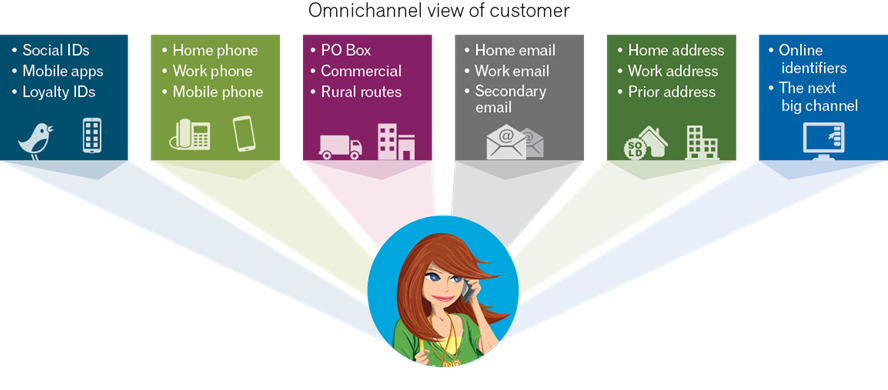 Play #2: Know customers
A high definition customer profile
Know the customer by creating a 360-degree view: Leverage your customer data (demographics and customer behavior), third-party data from a trusted source like Experian ConsumerViewSM demographics, Mosaic® lifestyle segments or predictive models to create highly custom audience segments.  Enhancing your database with additional intelligence around motivations, preferences and behaviors with other brands can help you narrow in on your messaging and contact strategy.
Play #3: Engage customers
Channel execution and ROI
Now that you have cleaned up your customer data, linked it and created high definition customer profiles, it's time to work with your marketing technology partner to send automated, coordinated and seamless acquisition or retention cross-channel marketing campaigns across mobile, social, display, email, web, TV and direct mail. (If you already work with the Experian Marketing Suite, which supports both Martech and Adtech, it's a slam dunk!) And of course, to analyze your marketing performance and effectively measure, attribute and maximize your efforts, you should build testing into your plans. How else can you improve your game?
Get off the bench and jump in! See how the Experian Marketing Suite can help.