Recently, The Relevancy Group released its 2016 Relevancy Ring Buyers Guide for Email Marketing Service Providers, which positioned Experian Marketing Services as the #1 Leader.  The report, written by marketing technology expert David Daniels and his team of analysts, also cited Experian Marketing Services as the largest ESP and the vendor with the most native functionality in both omnichannel marketing and content/personalization.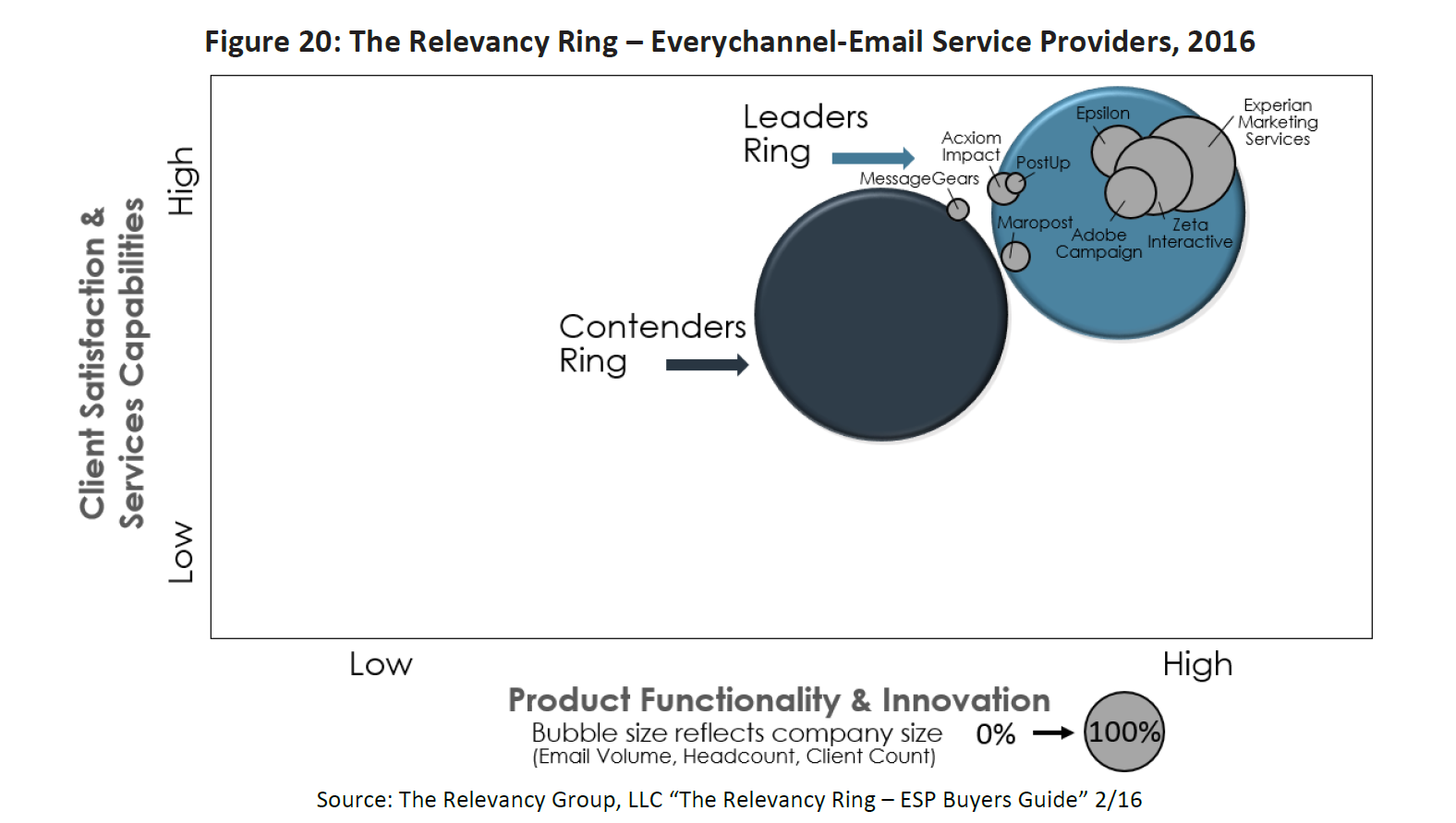 The annual report evaluates email marketing service providers (ESPs) based on current client satisfaction and the ability to meet the different needs and challenges that today's marketers face. This is the third year in a row that Experian has been named a Leader, and in the report, the Experian Marketing Suite was cited as one solution that was "particularly intuitive" in the demonstration of lifecycle marketing campaigns. We believe that we're uniquely positioned to help marketers solve their biggest challenges, as every day we help some of the world's largest brands get closer to their customers through intelligent, data-driven interactions.
Much like effective email campaigns, client satisfaction can't be simulated, and The Relevancy Ring Client Satisfaction Awards represent the customer's pure voice in vendor excellence across a myriad of categories. Experian Marketing Services received multiple Client Satisfaction Awards in seven categories, including: Overall Value, Usability, Campaign Execution, Account Management, Production Services, Omnichannel Marketing and Integration Capabilities. Additionally, all of our clients mentioned that they love the partnership they share with Experian Marketing Services, with one in particular stating, "We're both better companies through the partnership. We're excited to grow with them as a partner!"
The Relevancy Ring says it best – "Marketers that seek a strategic partner to provide a blend of services, data and technology across complex campaigns should consider Experian Marketing Services."
Want to read more? Download a complimentary copy of the report here!