This article is written by guest author, Nicholas Einstein, from The Relevancy Group. You can follow Nicholas on Twitter at @othereinstein.
As an email marketer, more is being asked of you today than ever before. On one side, your boss [and/or board] is demanding more in the form of direct revenue contribution. Data from The Relevancy Group's most recent executive marketer survey highlights that you're stepping up to that challenge. As the graph below indicates (Figure 1.), nearly one in four executives report that their email channel drives more than twenty-five percent of their overall revenue (astonishingly, this is nearly double the number who reported the same just two years earlier).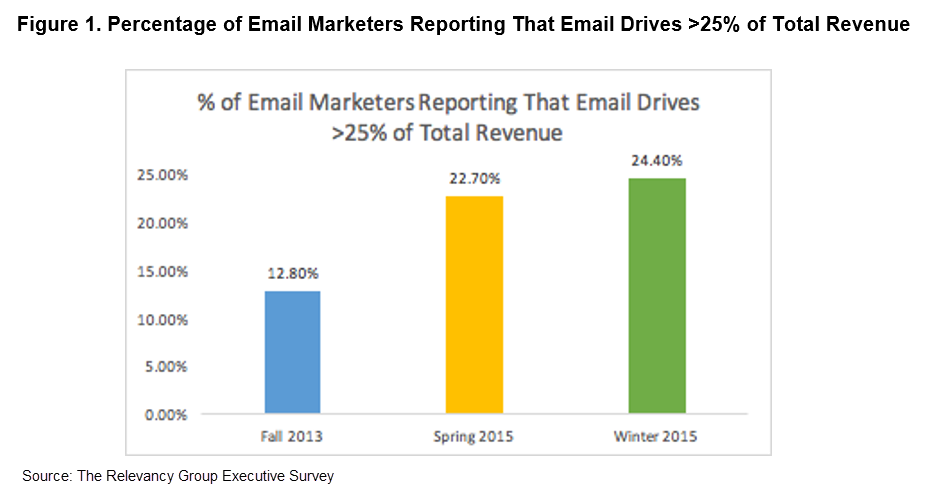 On the other side, consumers are demanding more from you as well. As they interact with you [and with each other] across more channels, and on more devices, they increasingly expect you to acknowledge their behavior [previous purchases, loyalty status, channel preference] and react in real time with highly relevant messages.
One important way you and your peers are responding to these increased demands is by implementing more sophisticated marketing analytics programs and leveraging analytic services. When The Relevancy Group asked our executive panel about services in the winter of 2015, ninety-three percent reported that they currently use or are planning on implementing analytic services, up from ninety-one percent in the spring, and up from nearly eighty-six percent in 2013 (Figure 2.).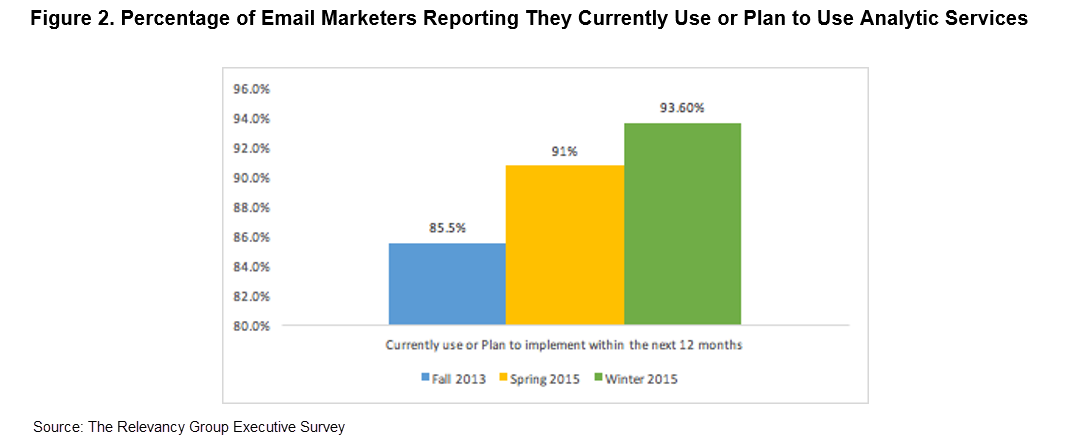 In our omnichannel world, marketing analytics are more important than ever, and marketers who leverage more sophisticated tactics drive more successful campaigns. Today, many face the ironic challenge of having far more customer and campaign data than they know how to effectively manage. Strong marketing analytics can help you separate the signal from the noise and leverage the appropriate data to optimize campaigns and drive core business objectives.
The Relevancy Group believes that by focusing on the following five key areas, marketers can forge stronger analytics programs, build a more comprehensive view of the customer and continue to grow their email program in 2016 and beyond:
1. Customer profile development
In order to execute effective, relevant campaigns across channels, marketers need to develop deep, actionable customer profiles, and often need help doing so. It can be impractical or inefficient to gather all required fields organically, so most sophisticated marketers start with the attributes available through their own first-party data (names, addresses, RFM data, etc.). To augment, they often leverage third-party data. Depending on the program/business, marketers who layer in crucial geographic, demographic and psychographic data attributes, and who are able to make the data actionable through effective marketing analytics, are far better equipped to meet and exceed consumer expectations.
2. Data hygiene and profile management
Reliable data is the foundation of marketing analytics. Programs that rely on suspect data will have difficulty generating cogent insights. The data used by sophisticated marketers to perform analytics that informs segmentation and targeting often comes from a wide variety of sources: transactions, public records, partners, digital identifiers, consumer demos, etc., so managing customer profiles and data integrity is an ongoing task that has become increasingly resource-intensive. Marketers must prioritize data hygiene or risk spurious analytics.
3. Optimization at the point of interaction
Using appropriate contextual data to drive relevancy at the time an email is opened often pays big dividends. Recent research from The Relevancy Group highlights that marketers who leverage real-time contextual data in their email programs can drive nearly three times the monthly revenue of those that do not. Contextual data points, like time, location and device can all be leveraged in real-time to deliver highly personalized customer experiences that drive more value. Solid marketing analytics enable these programs to succeed, so virtually all programs leveraging real-time data must be launched in concert with appropriate measurement and optimization plans.
4. Cross channel marketing attribution
Simple, last-click attribution models worked well for marketers when marketing programs were uncoordinated and executed through one or two marketing channels. Today, though, the purchase path for most customers involves numerous touch points through multiple channels, and understanding the impact and influence of each is critically important. Twenty-nine percent of respondents to The Relevancy Group's recent Executive Survey reported that improving their cross channel attribution was among their top priorities. Marketers who focus on analytics to understand how each channel works together to drive the ultimate conversion are far better prepared to make informed decisions around channel mix and resource allocation than those who limit their scope to traditional last-click models.
5. Modeling to generate predictive insights
Predicting the needs of consumers and delivering on those needs with the appropriate message at the appropriate time has long been an aspiration of virtually all marketers. But it's never been simple to do and has generally required significant investment in people, process and technology. For those who make the effort, these investments pay dividends through more relevant campaigns that generate higher returns, but cost and latency have always been issues. However, the tools and technology to build predictive models are blossoming, and generating insights around product recommendations, channel selection, propensity to purchase, etc. is easier and quicker today than ever before.
For more insights on why analytics is especially critical for email marketers, join us for a webinar next Tuesday on Driving extraordinary email marketing results through omnichannel analytics and download the related analytics report.