At Experian Marketing Services, we're really passionate about Movember – a global charity committed to raising funds and awareness for men's health. We asked the Foundation's CEO and co-founder, Adam Garone, to share his story during the keynote presentation at our 2013 Client Summit. He captured our attention, hearts and many upper lips – and he created a company of "celebrity advocates" to continue to change the face of men's health.
Now that we've passed the mid-way mark, things are getting hairy. I decided to check in with some of our Movember enthusiasts. Mo Bros Troy Smith, Senior Director of Client Services, and Spencer Kollas, Vice President of Global Deliverability, and Mo Sista Caliopie Walsh, Vice President of Human Resources, shared why Movember is important to them and why they participate.
From these conversations, it's obvious that participating in Movember is fun, but it can seriously help raise money and awareness for real health issues. It's also clear that Movember knows its supporters and that the principles  Adam Garone shared in 2013 still hold true today.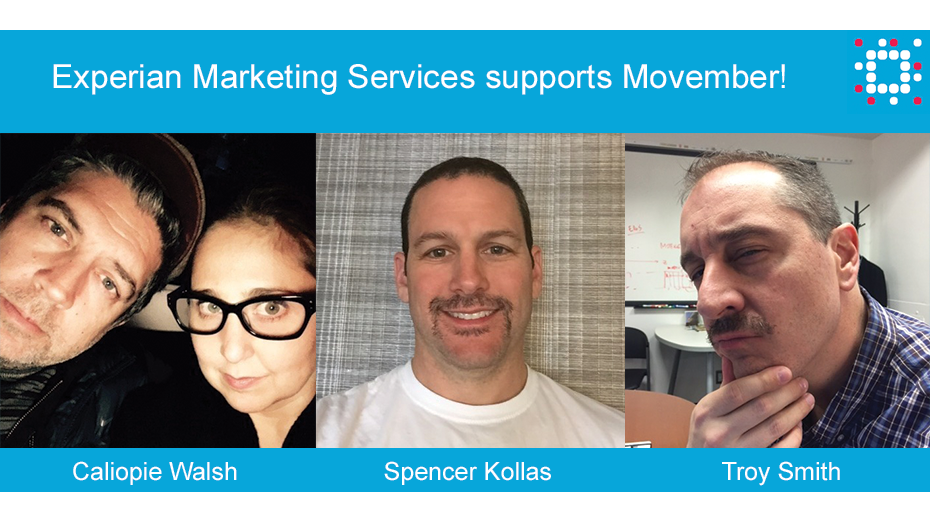 Why is the Movember movement, raising awareness of men's health issues, important to you?
Troy Smith: I'm adopted and don't know any of my family history since I never really knew any of my blood family. When my parents received my information they learned my birth mother was also adopted. I think that's why I consider men's health initiatives important. Men in general kind of put it aside and we all think we are indestructible but I think as we mature and get older we realize there are a lot of things outside of our control. Why not take control where we can?
Spencer Kollas: We guys don't take care of ourselves – we tend not to worry about our health. There are three day walks and the NFL turning pink in October for breast cancer awareness, but there are not many things out there raising awareness for men's health. When the founder of Movember spoke at the Experian Marketing Services Client Summit he gave background on the story, how it started and how the money actually goes toward research. It spoke to me that this is such an easy and powerful way to raise money and I automatically said I would do this every year no matter what.
Caliopie Walsh: I became familiar with Movember when I worked in our London office – where the Global Finance team, with whom I sat, all started getting harrier in November. Someone explained the origin of the movement and I thought that was a great way to get people involved in building awareness for men's health issues. I think men have tendencies to avoid going to the doctor even when things need checking out. My father, my brother and even my husband all avoid the doctor and that has big consequences. Recently I had a friend pass who was diagnosed with cancer but found out too late to save him.
Why do you grow your Mo?
Troy: As much as I believe in being healthy and working out I still need a good kick in the ass to schedule my own physicals and get checked out. Being over 40 now, I know how important scheduling those doctor appointments is and growing this annoying moustache keeps it top of mind. It doesn't hurt that it annoys my wife for a month – what married guy doesn't enjoy doing that?
Spencer: I always have facial hair – I usually have a goatee – but with this I get to change it up a bit. It's fun to see what it looks like and it helps spark conversation. If I only donate I'm not going to start a conversation with, "Hey, I just donated $50 to men's health."
Growing a moustache means you have the potential to talk about it every day for 30 days. You never know when someone's going to ask about it. Just the other day I was dropping my son off at school and his teacher brought it up. Plus, it makes my kids smile and laugh at me a bit. It makes my wife's head turn – especially on those first days when I don't have any facial hair. We go on a family vacation just before Thanksgiving and then to my in-laws', so there are a whole bunch of pictures of me with a trucker moustache. It looks funny, but it's for Movember so I'm going to do it.
Caliopie: I am not able to grow a moustache (well not a full one – I am half Greek after all), but Movember is a fun way to engage with my colleagues. It's really a community-building movement at Experian Marketing Services. We've raised thousands of dollars for men's health research over the years, but we also get so many people involved – our employees and their families.
My husband is my proxy. He supports my passion around Movember and we have fun with it. The first year he grew a "Guy Fawkes – Anonymous type" moustache. Last year it was more like a "John Waters thin" moustache. Matt Seeley [Experian Marketing Services' President] even gets his kids to judge the best 'staches and offers more donations in their names. This year we've also helped the Movember Foundation create its SMS campaign through the Experian Marketing Suite.
Have you joined Movember's mobile program (text MOVEMBER to 64207) powered by the Experian Marketing Suite? If so, how have the texts helped you engage with the cause?
Troy: Yes, I signed up for the mobile messages. They serve as an additional reminder – when I get one I think, "Oh, let me do a quick share on Facebook to hopefully drive more donations."
Spencer: I have signed up. The Move aspect of Movember is awesome this year. I thought it was really cool that before Monday Night Football I got a text telling me to make sure I got my moves in – for every first down do five sit ups and every touchdown do 6 push-ups. It's a great way to get people to think about different ways to exercise.
Caliopie: Of course, and I encourage everyone to also download the app. It's easy to do and keeps you aware of the latest happenings. It also gives you tips on fundraising and fun activities to keep you engaged in the Movember movement.
Show your support to help tackle some of the biggest health issues faced by men – prostate cancer, testicular cancer, poor mental health and physical inactivity. You can donate to the Experian team or make a general donation. If you're growing we'd love to see your progress! Share your pics using #SuiteStache.
And don't forget to sign up for the mobile program (text MOVEMBER to 64207) for updates and an example of a great SMS mobile messaging program.