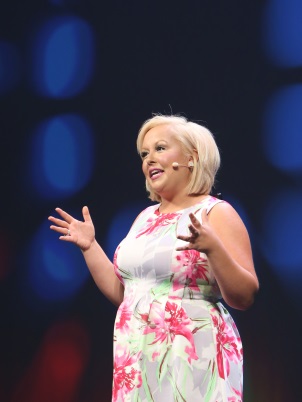 For this month's Ask the Expert column, I interviewed Brienna Pinnow, Product Lead for Addressable Advertising at Experian Marketing Services. You may recognize her from the main stage of the recent 2015 Client Summit event in Las Vegas, NV, where she spoke about the addressable capabilities (including TV) within the Experian Marketing Suite.
Want to join the conversation? Tweet your comments to @BriennaP and @ExperianMkt using the hashtag #AsktheExpert.
In today's landscape, we often see display advertising being managed separately from email communications. Is there an opportunity to bring these two sides together?
Definitely, and that's where the whole concept of addressable advertising gets exciting. Defining a single audience that will be the recipient of both your earned strategy – which is, say, email – and also your paid marketing – which is typically display ads, mobile ads or even television – is where the promise of cross-channel cohesion really comes to life. To deliver complementary paid and earned messages, you have to have what I like to call a "single source of truth," or a single audience definition based on personally identifiable information.
And how do you determine who should be in that audience?
This may be a bit surprising, but one tip that I often recommend for marketers getting started with paid addressable advertising is to connect with your direct mail team because they have so much knowledge. Direct mail has perfected the art and science of segmentation and messaging strategies, so if you ask them who they would target directly if they had the money, they'll be able to instantly give you a list of those individuals. That list then becomes your single source of truth for launching an email plus addressable advertising campaign.
Can you share some examples where combining email and addressable advertising works best to engage current customers? Does it work well for acquisition, too?
For retention or engagement campaigns, one low-hanging fruit for marketers is to implement a cross-sell strategy. As an example, an insurance company may have a list of people who have an automotive policy with them, but no other policies. They can come to Experian and ask, "Can you tell me which of these current customers are also homeowners?" We can then enrich their audience with that data in order to help them build a segment of people for a really intelligent cross-sell message.  In this example, the insurance company will be able to target their current auto policyholders with the perfect message – "Bundle your auto policy with your homeowner's insurance policy today." And the advertiser can have that message reach their audience via both email and display.
Other times, people are looking to implement an acquisition campaign. With direct mail, that's typically a much more expensive tactic. I've worked with advertisers who have created a custom model of their best potential new customers, but they only have the budget to reach the top 10 percent of that model via direct mail. That's where combining really efficient channels, like email and addressable display, can help you reach those valuable prospects you may not have been able to reach through traditional channels in the past.
Beyond targeting the same list, how else can marketers tie together their email and addressable campaigns?
I'd say the best place to start is with email behavior data. You can get really smart about segmenting your addressable advertising audience based on email activity like clicks, opens, non-opens and engagement across devices. Take what you know about how someone did or did not interact with your brand and then leverage that data intelligence to tailor a sequential follow-up message to the same individual across channels.
Is one-to-one, addressable targeting something that advertisers can build in-house?
To launch a cross-channel, addressable strategy, brands need to work with a company who comes to the table with a unique set of capabilities including consumer data, partnerships with major media companies, privacy compliant matching capabilities and email competencies. Only a handful of companies in the world have this, including Experian, and so it's essential for marketers to choose a partner who can help them build, match and activate their best audiences at scale across channels.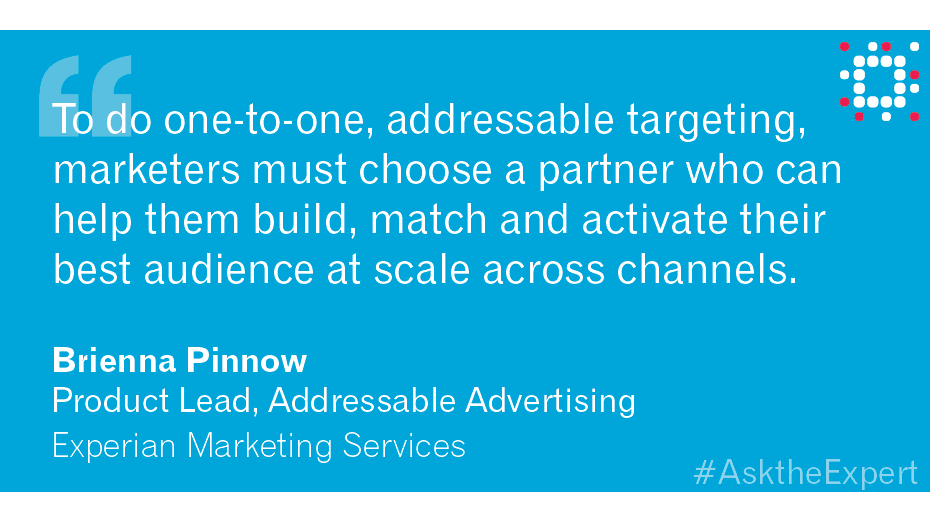 Is there any worry about customers finding addressable ads "creepy?"
This is definitely a topic that comes up when you begin discussing the ability to target consumers at a one-to-one level. The landscape is changing, and nearly three out of four consumers prefer a personalized, relevant experience. Addressable advertising means that marketers can actually deliver on this rising consumer expectation – which is a great thing.
However, in order to remove the 'creepy' factor as well as remain privacy compliant, marketers have to message individuals at a segment level. This means that although marketers can create a precise audience where they want to target "Katie", they should never get to a point where an online display ad shows up that says, "Hey, Katie, you left these shoes in your shopping cart!" Addressable advertising helps brands deliver those intelligent interactions without crossing the line.
What's one of the biggest challenges for addressable advertising as it fits into the cross-channel strategy?
Historically speaking, addressable advertising has required quite a bit of heavy lifting from brands and marketers. In the past, it used to take weeks or even months to define a strategy, gather the audience data, make a media buy and finally launch a campaign.  Email marketers are accustomed to flexible, self-serve, automated campaigns that get them into the market with their message almost instantaneously.
So where are we headed? Experian is looking to take the automation that's part of our DNA and apply that to the addressable advertising space. As part of the Marketing Suite, we're in the midst of developing a platform that's going to help both advertisers and our media partners bring addressable advertising campaigns to life as quickly as possible, shifting from months to hours. We hope that with our platform, data fueled, one-to-one campaigns across channels won't be the exception; they'll be the rule.
Want to make your email and addressable advertising strategies fit together? Download the Email + Addressable playbook to discover new tactics (and channels) that can help you bump, set and spike your way into your customer's hearts.